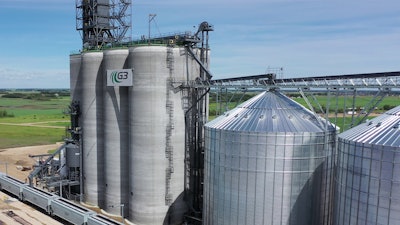 G3 welcomes two more new elevators into its network of high-efficiency grain handling facilities.
G3 Vermilion, AB, and G3 Swift Current, SK, are in full operation.
Both facilities can unload a Super-B truck in less than five minutes, saving farmer customers time and money.
Both new elevators have 42,000 tonnes capacity and railway loop tracks that allow for fast and efficient loading of 150-car unit trains, keeping grain moving quickly to market and increasing delivery opportunities for farmer customers.
"We're pleased to be part of these great agricultural communities and look forward to earning the business of farmers who see the value in fast, efficient service," says G3 CEO Don Chapman. "And we're happy to welcome the new facilities' dedicated and skilled staff to the G3 team across Canada."
Both new elevators offer convenient road access to area producers and are well-positioned to ship grain by rail quickly to G3 Terminal Vancouver, the state-of-the-art grain export terminal on the West Coast with access to markets around the world. G3 Vermilion is located on CN Rail; G3 Swift Current on CP Rail.
About G3
G3 was created with the vision of building a smarter path from farmers' fields to global markets. Today, G3 is transforming the way grain moves with an expanding network of facilities that set new standards for fast, safe and reliable operations.