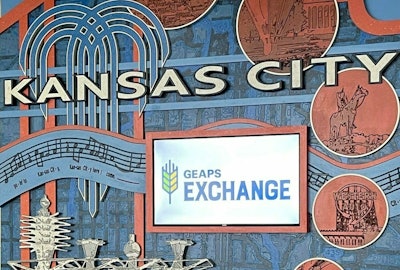 The Grain Elevator and Processing Society (GEAPS) welcomed 3,333 attendees and more than 364 exhibitors for GEAPS Exchange 2023 February 26-28 at Kansas City Convention Center in Kansas City, Missouri.
"Exchange is an opportunity for all our exhibitors to tell their own stories about what new things they have. Our exhibitors take a lot of pride in their booths and really work to give our attendees a great representation of what they do and how they can be of service," said Adrianne Fjerstad-Miller, GEAPS' conference and expo director. "Yes, Exchange is about relationships and connecting with customers but it's also such a wonderful opportunity for our exhibitors to showcase the best of themselves."
It was standing room only when Kansas native Dan Cnossen delivered his keynote speech Sunday morning. Cnossen is a true patriot, a Navy SEAL, a war veteran, a survivor, a Harvard graduate and Paralympian with the medals to prove it. His presentation was a wonderful way to begin Exchange.
The event featured four education tracks this year designed to meet the needs of grain professionals. Maintenance; Employee Development; Safety; and Grain Operations. Attendees packed training rooms as they were able to focus on one track or sample them all.
In addition to great education, GEAPS Exchange included an Expo Hall filled with technology and services to make grain operations safer and more efficient; education on the latest trends and best practices and social events that help reinforce business relationships.
Finally, Exchange ended on a fun note with Strongman Eric Moss. He empowered and astonished as he folded frying pans, broke concrete and spoke about the power in all of us.
Exchange 2024 is scheduled for February 24-28 back at Kansas City Convention Center in Kansas City. Booth sales for the event open later this year, with registration opening later in the fall.