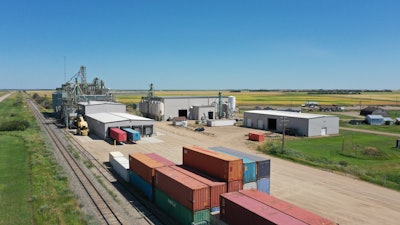 Courtesy of Prairie Pulse
ADM has acquired Prairie Pulse Inc., owners of a pulse crop cleaning, milling and packaging facility in Vanscoy, Saskatchewan.
The addition expands ADM's capabilities to meet the needs of its downstream customers, who are increasingly looking at pulses as protein sources for both human and animal nutrition products, said ADM commercial manager Aaron Brown.
"The enduring global trends of sustainability and food security are powering growth in alternative proteins, and ADM is continuing to invest to ensure we're at the forefront of meeting those needs," said Brown. "We look forward to working with farmers and the great team at Prairie Pulse to expand employment opportunities in Vanscoy and enhance our capability to supply the growing demand for pulse products."
Prairie Pulse's operations in Vanscoy – which include origination, 12,000 metric tonnes of bulk storage, cleaning, milling, sorting, sizing and bagging – will double ADM's pulse footprint in the region. The pulse dehulling and splitting facility transforms lentils, chickpeas and peas into shelf- and food-ready products for domestic and international consumption.
"This is an exciting opportunity for Prairie Pulse, our staff, and customers," said Allan Wagner, Prairie Pulse president and CEO. "ADM is a global leader in the fast-growing alternative protein sector that our products serve. I'm excited, honored and proud to join the ADM team, whose guidance, strength and leadership will be a tremendous boost to our efforts to maintain, expand and grow our business."
ADM's current services and operations in Saskatchewan include pulse origination and cleaning in North Battleford, canola crushing in Lloydminster, oilseed sourcing in Watson, and fertilizer sales and distribution in Lajord and Yorkton.