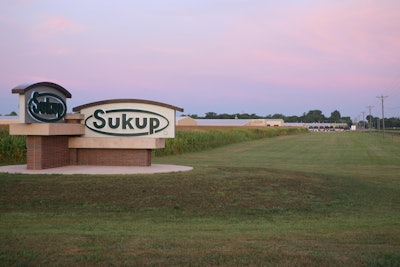 Sukup Mfg. Co. will be expanding its executive team with the additions of a Chief Administrative Officer and a Chief Operating Officer.
Emily Schmitt, a third generation family member, has been promoted to Chief Administrative Officer and General Counsel. She will lead legal, human resources, communications, strategic planning, and other administrative functions of the company. Emily previously held the title of General Counsel, and has been with the company since 2011.
Sukup is actively searching for an experienced manufacturing executive for the newly created Chief Operating Officer role to lead manufacturing, distribution, and facility optimization.
"Our company is experiencing tremendous growth in product offerings and impact on agriculture," says Steve Sukup, president and CEO. "Myself, our Board of Directors, and the Sukup families have decided the time is right to make an investment in expanding our team. I am confident that these two new executive roles, in addition our new CFO in April 2020, will greatly strengthen Sukup's ability to manufacture the high quality grain storage, drying, and handling equipment that farmers and the industry have come to expect."
About Sukup Mfg. Co.
Sukup Mfg. Co. is the world's largest family-owned and operated manufacturer of grain storage, grain drying and handling equipment, and steel buildings.