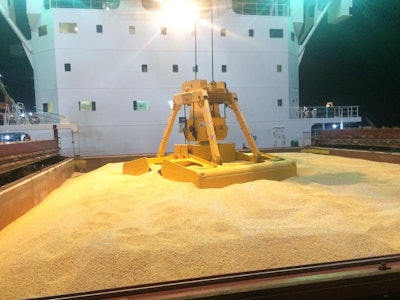 Twice a year, U.S. Grains Council (USGC) staff crisscross the globe to share information from the organization's two corn quality reports and answer questions from grain buyers and end-users. While these in-person events were not possible this spring following the outbreak of COVID-19, the Council is continuing its tradition of meeting customers where they are to discuss corn quality, 2020 corn production, logistics, contracts and more.
"We are going to continue to support our valued customers around the world digitally until we can get back in front of them," said Reece Cannady, USGC manager of global trade, who has participated in corn quality webinars and seminars for customers in South Asia, Southeast Asia, Northeast Asia, Mexico, Latin America and the Caribbean, Taiwan and the Middle East and Africa. "People really want to get back to seeing people in person, but everyone is staying strong and is ready for business to continue as usual."
Northeast Asian Offices Combine Crop Quality Promotion Efforts
The Council's offices in Japan, South Korea, Taiwan and China jointly conducted a Northeast Asia webinar on May 29, with nearly 650 users from nine countries logging in for the presentation and discussion. The entire program was simultaneously translated into Japanese, Korean, Traditional Mandarin and Simplified Mandarin.
Tommy Hamamoto, USGC director for Japan, reported the webinar was well-organized, well-received and convenient for customers who are still under travel restrictions.
"The webinar gave us lots of real-time information about U.S. corn supply and quality," Hamamoto said. "Japanese customers were concerned about the impact of COVID-19 on the supply of corn, but the face of the farmer who participated and the speakers' comments gave them a lot of relief."
The program focused on the 2019/2020 Corn Export Quality Report, which was released in late April 2020. The report, now in its ninth edition, is based on 404 export cargo samples collected from corn shipments undergoing federal inspection and grading processes at export terminals. It also provides information on grading, handling and how U.S. corn is moved and controlled through export channels. The Northeast Asia webinar presented the specific results of this year's report, while also demonstrating how the U.S. grain export system continues meeting contract specifications each and every year.
"Customers gave the Council high marks for delivering great information about U.S. corn planting progress, export quality and global market perspectives," said Michael Lu, USGC director for Taiwan. "They appreciated that the Council can still timely share the market intelligence beneficial for their purchasing decisions in a virtual way during the pandemic. After learning from our U.S. corn farmers about the good crop progress and condition for the 2020 corn crop, these customers are looking forward to buying the new U.S. corn crop."