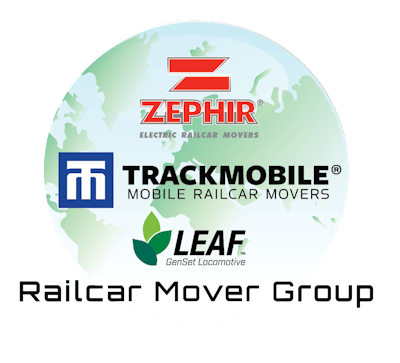 A new partnership highlighted the new year as Trackmobile, Zephir S.p.A., and LEAF locomotive joined together under the Berkshire Hathaway, Marmon Holdings, Inc. umbrella to form the Global Railcar Mover Group.
As global manufacturers and industry leaders responsible for "the design, manufacture, and service of machines for moving railcars and locomotives," the Global Railcar Mover Group intends for this partnership to demonstrate its unparalleled commitment to safe rail operations and elevates each member to the next level in their commitment.
"We are pleased to announce that Marmon Holdings, Inc. has created a new Global Railcar Mover Group as part of their Rail Products and Services Sector business," says Ralph Przybyszweski, Global Railcar Mover Group president. "Trackmobile, Zephir S.p.A. and the commercial aspects of the LEAF locomotive business became a part of this new group effective January 1, 2019. I have been given the opportunity to manage this group with the focus on being the preeminent world leader in the railcar mover industry by providing superior products and services through our combined global distribution network."
As a unified group, the Global Railcar Mover Group provides industries with a full spectrum of choices to handle all their railcar movement needs. Offering tractive effort capacities ranging from 27,000 to 80,000 lbf. using environmentally friendly Tier 4 compliant engines ranging from 130hp to 1200hp or electric motors that range in drawbar pull from 3,475 to 40,465 lbf.
The Global Railcar Mover Group represents the best options available for industrial operations, shipping, and receiving materials and finished goods via rail shipping transportation.
The Global Railcar Mover Group is comprised of the three best-in-class brands of railcar mover solutions available.
Trackmobile, a U.S.-based company, invented the first railcar mover in 1948 as a solution for railcar shunting in the handling of industrial materials.
Founded in 1969, Zephir S.p.A. is an Italy-based railcar mover manufacturer that innovated a battery-powered (Electric Range) railcar mover in 1991 as an environmentally friendly solution for railcar shunting.
And since 2008, LEAF, a U.S.-based company, has been successfully saving locomotive customers significant fuel costs with its Tier 4, FRA compliant new locomotives designed for lighter weight line haul operations.
As part of Berkshire Hathaway and Marmon Holdings, Inc.'s Global Railcar Mover Group, Trackmobile, Zephir S.p.A., and LEAF continually set new standards for railcar movement equipment with innovations in efficiency, reliability, safety, and ease of operation.
"We are excited about the innovation and growth opportunities that lie ahead for this new group. All the combined resources of this group and the distributor network will allow us to succeed in every facet of this industry," says Przybyszweski.