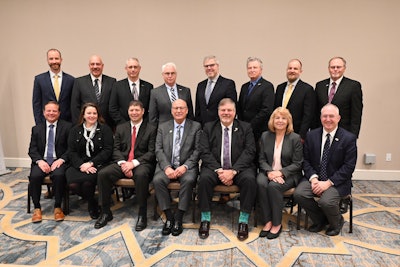 The U.S. Soybean Export Council (USSEC) has named its 2022-2023 board of directors, seated on March 9, 2022, during the organization's annual meeting in New Orleans.
"USSEC's board is led by the highly skilled, committed representatives from across the U.S. soybean value chain," said Jim Sutter, USSEC CEO.
"Their collective expertise enables USSEC to differentiate, elevate and attain market access for U.S. Soy, a key source of sustainable nutrition and energy across the globe."
USSEC's board is comprised of 15 members representing various stakeholders from the U.S. Soy industry. Four members are appointed from the American Soybean Association (ASA), four members are appointed from the United Soybean Board (USB), and seven sub-class seats are elected representing industry, state and trade organizations.
"Our board is looking forward to building on the immense achievements in recent years," said new USSEC Board Chair Doug Winter.
"And I am energized about collaborating with USSEC's global team to enable companies to experience the full value of U.S. Soy for human consumption, aquaculture, and livestock feed in 80+ countries internationally."
The 2022/23 USSEC Board of Directors is as follows:
Executive Committee
Doug Winter, Chairman
Stan Born, Vice Chairman
Dawn Scheier, Secretary
Chris Arnold, Treasurer
American Soybean Association (ASA) Appointments
Stan Born, Grower Leader, IL
Brian Kemp, Grower Leader, IA
Joel Schreurs, Grower Leader, MN
Monte Peterson, Grower Leader, ND
United Soybean Board (USB) Appointments
Doug Winter, Grower Leader, IL
Lance Rezac, Grower Leader, KS
Darren Kadlec, Grower Leader, ND
Mike McCranie, Grower Leader, SD
Allied Sub-Class
Tori Sorensen, Insta-Pro
Dawn Scheier, South Dakota Research & Promotion Council

Exporter Sub-Class
Craig Pietig, Ag Processing, Inc.
Matt Giltner, ADM

John Buboltz, Cargill
Ken Dallmier, Clarkson Grain Co.
Chris Arnold, J.D. Heiskell & Co.
USSEC members represent the soy supply chain including U.S. Soy farmers, processors, commodity shippers, merchandisers, allied agribusinesses, and agricultural organizations. USSEC is funded by the U.S. soybean checkoff, USDA Foreign Agricultural Service (FAS) matching funds, and industry.