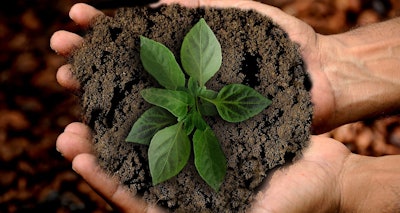 During this year's COP27 United Nations Climate Change Conference, 14 of the world's largest agricultural trading and processing companies promised to deliver a highly ambition roadmap for the agricommodity sector to outline how they will work toward reducing emissions from land-use change.

Food and land use systems account for around a third of all greenhouse gas emissions and it is land use change, such as clearing forests to make way for farms, that drives these emissions.
To address this critical issue, the CEOs of leading agricommodity companies committed – at COP26 in Glasgow in 2021 – to developing a shared roadmap focused on reducing emissions from land use change.
ABCD grain traders sign up
Global grain giants ADM, Bunge, Cargill and Louis Dreyfus Co. have all joined the pledge. Other companies include Amaggi, COFCO International, Golden Agri-Resources, JBS, Marfrig, Musim Mas, Olam International, Olam Food Ingredients (OFI), Viterra and Wilmar International.
"ADM takes its commitments to halting climate change seriously, and its implementation of the 1.5 degree roadmap is an integral part of a broader climate strategy that includes aggressive targets to reduce Scope 1, 2 and 3 greenhouse gas emissions," said Alison Taylor, chief sustainability officer at ADM.
"We are proud to collaborate with our peers to take this next step to reduce forest loss from supply chains."
Plan to address forest loss in supply chains
The Agriculture Sector Roadmap to 1.5°C, released at COP27 in Egypt, represents a sector-wide plan for addressing forest loss in supply chains and accelerating collaboration with others to achieve that goal.
The roadmap sets out sectoral plans for cattle, soy and palm oil – the production of which is a leading driver of forest loss – to ensure that actions concentrate on areas where they will have the most impact.
It also outlines how signatories will engage and collaborate with other stakeholders, namely governments, supply chain actors and financial institutions, for wider support of the roadmap's commitments. This includes strengthening policies and regulations and incentivizing farmers and ranchers to protect natural resources.
Over the past year, the Tropical Forest Alliance, with support from the World Business Council for Sustainable Development (WBCSD), has facilitated the process for agricultural commodity companies to develop the roadmap. It commits them to implement time-bound plans and report publicly on their progress towards the targets on an annual basis.
"The world relies on the roadmap's 14 signatories to feed a growing global population, while keeping climate goals in reach and ensuring sustainable livelihoods for farmers and ranchers," said Jack Hurd, executive director, Tropical Forest Alliance.
"Fundamental change is required across the entire food system to support more sustainable production. Companies have already made significant progress, and this roadmap is the next part of that journey. It represents a major step forward for signatories in the fight against forest loss."
The roadmap, however, is just one component of a much broader system: governments, the financial community, civil society organizations, and other food and agricultural supply chain stakeholders all have a key role to play in supporting the industry to meet its sustainable land-use commitments, said Hurd.