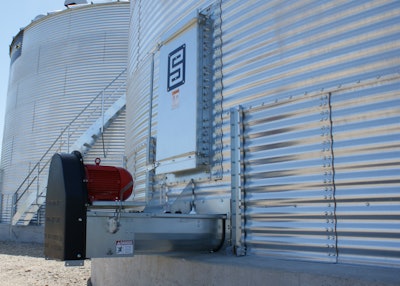 Superior Manufacturing has redesigned its grain bin unloading system to increase reliability, efficiency and ease of use. It maintains unload speeds up to 6,000 bushels per hour, among the fastest in the industry, and its galvanized finish ensures excellent durability and long life.
The improved unloading system features a 9-inch, under-bin grain auger inside an 11-inch U-Trough. In a traditional system, the auger forces grain through a 10-inch tube. The grain gets compacted and pressed against the inside of the tube and is often damaged as a result. By comparison, the Superior U-Trough is gentler on the product because it has no sidewalls and there is more space between the auger and the trough. With its 11-inch diameter, the U-Trough also has greater capacity. And finally, bulk grain free flows over the auger for fast unloading speeds.
To increase efficiency, Superior has attached a 7-inch power sweep to the unload with new couplers that are pressure fit for secure connections. The sweep is equipped with an improved, sturdy back plate, and a redesigned drive wheel with a 16:1 gear ratio propels the sweep into the grain mass.
All of the system's sumps are covered with rack-and-pinion gates that are fitted with roller bearings for easy opening and closing. If the center sump becomes plugged, users can access a next-to-center sump that opens independently of the other intermediate
sumps. This makes the Superior unload much safer than other systems, where users would either have to enter the bin to unplug the center sump or find an alternative way to unload. In addition, the Superior system's controls are located outside of the bin so they can be accessed easily without entering the bin. A removable top cover makes it easy to access the rack and pinion assembly.
An adjustable motor mount, which is equipped with an over-center lever, makes engaging the auger straightforward. Superior also added hinged discharge covers that can be quickly opened or closed without having to hassle with bolts or wing nuts. They can be latched open while unloading or closed during the winter to prevent rodents or blowing snow from gaining access.
Superior bins also feature the largest vents in the industry. The pre-punched roof vent panel and durable poly air vents keep moisture out while allowing air to flow. This keeps grain dry and helps preserve commodity integrity.
Superior farm bins provide unmatched strength and reliability from top to bottom and come with the industry's only lifetime roof warranty. The hopper, farm and commercial bins range in storage capacity from 1,850 bushels to more than 790,000 bushels.
About Superior Manufacturing LLC
Superior Manufacturing, Kindred, North Dakota, manufactures a complete line of robust grain storage, handling and conditioning equipment for commercial farmers, smaller farm operations and ranches. The principals have been in the grain storage and management business since 1977. We are proud to meet the industry's need for more durable grain bins, and today its bins and grain equipment protect crops throughout the world. In addition to its headquarters and manufacturing facility in Kindred, Superior has an additional plant in Beresford, South Dakota. For more information: Superior Manufacturing, 5069 169th Ave. S.E. Kindred, ND 58051; 877-989-5747; trever@superiorincnd.com; www.superiorbins.com.