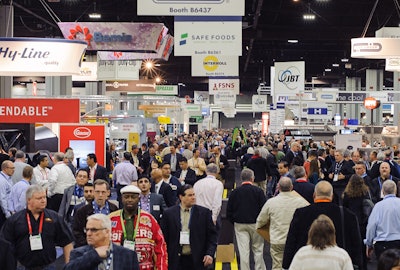 The 2018 International Production & Processing Expo (IPPE) once more returns to Atlanta, GA, to play host to 30,000 attendees and 1,200 exhibitors from across the world. From Jan. 30 to Feb. 1, the worlds of meat, poultry and feed processing and production will be under one roof, the Georgia World Congress Center.
Sprawling across the B and C halls of the convention center, the exhibit hall has more than 514,000 square feet dedicated to showing attendees the newest most advanced equipment the industry has to offer. Need new equipment for your operation? Get an up-close view from dozens of providers and talk to experts that will help you find just what you need.
IPPE also plays host to 140 hours of educational sessions, many of which are free for attendees. Consisting of shorter sessions, all-day events and show-long workshops, attendees can keep up to date on the latest policies and trends impacting the feed, meat and poultry industries.
---
Industry Watch: IPPE Daily
Feed & Grain magazine will be your place for everything IPPE as we expand our coverage of the event. Subscribe to our newsletter at Feedandgrain.com/subscribe and receive our IPPE exclusive daily eNewsletter the "Industry Watch: IPPE Daily."
Starting on Monday Jan. 29, Industry Watch eNewsletter subscribers will receive a specialized eNewsletter filled with information about the show every morning. Get recaps of the previous day, information from exhibitors, previews for the upcoming day, along with tips and information on what's going on at IPPE
---
Show Us Your IPPE
Everyone has different experiences and reasons for attending IPPE; tell us yours with the hashtag #MYIPPE on social media! Feed & Grain wants to share how our readers experience IPPE, what you learn, see, and find interesting during the entire four-day 514,000-square-foot celebration of the feed industry. Not only will our favorite tweets and post end up in the IPPE Newsletter, but you'll also be entered to win a $50 Visa gift card.