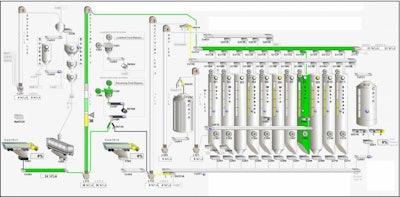 Automated control systems have come a long way. Gone are the days when systems were required to merely start and stop equipment with simple safety interlocking.
Today's control systems need to be able to help grain handlers and feed manufacturers prevent cross-contamination, provide on-the-fly destination bin swapping, and integrate to a number of third-party packages.
On top of these advanced functions, grain handlers and feed manufacturers are also asking for systems that collect an immense amount of data. This data, once captured, must be formatted and displayed in meaningful reports to allow companies to analyze metrics such as downtime/shift, power usage and throughput amounts.
Changing commodity prices, tight margins, and an even tighter workforce supply, are forcing feed and grain facilities to operate leaner. They need more efficient processes, less downtime and to run with fewer people – but with more information and more flexibility.
Operating a facility without an onsite staff ("Light's Out") was unrealistic a few years ago, but industry needs are now pushing in that direction. Still, many in the industry have yet to fully utilize control systems.
The key to getting the control system that you need is to have multiple conversations with your automation vendor. Be specific about the challenges you are facing and how you currently operate your equipment. And discuss your wish list!
Some of those wish list items may be easier to accommodate than you think. Many automation features are created based on operations personnel identifying their own challenging situations and changing needs. Also discuss where you need to improve your internal processes.
Custom dashboards and remote data sharing screens address many office and managerial challenges faced by today's facility managers.
Having a vendor work with you as a "partner" allows them to get a good insight on your business needs. This allows them to provide the best recommendations for your facility.
The importance of planning cannot be overstated. Plan for today but also for your realistic future needs. It can be as simple as purchasing a larger enclosure for the PLC hardware at the beginning and leaving empty space if there is an expansion to come.
Size your automation hardware appropriately — undersizing is an expensive mistake. Make sure you install a system with parts that are easily accessible and common to the tradespeople in your area.
Finally, make sure you find an automation vendor that offers great customer service. After the installation is complete, you want a company that sticks around to provide consistent and timely support when it's required. ■
Author: Cheryl Lansink, Automation Expert
Cheryl Lansink began her career in the feed and grain industry when she joined the Comco team in 1999 as a computer programmer. Over the past 22 years, she transitioned her role with Comco from programming into marketing and then sales. Six years ago Lansink was promoted to director of sales for Comco and focuses specifically on providing automation solutions to process control facilities of any industry, with a special focus on the feed and grain industries. To contact Lansink, email CherylL@ComcoControls.com.