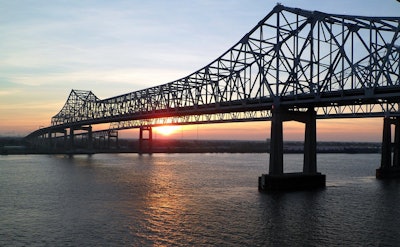 Ed Judkins | Pixabay.com
Transportation is the biggest challenge facing the U.S. soybean industry today, due to the distance between where soybeans are used versus where they are grown and issues stemming from aging infrastructure. More than $30 billion/year of U.S. soybeans are exported around the world, and 80% of them are cultivated in just three upper Midwestern states — Illinois, Iowa and Minnesota.
Meanwhile, 80% of domestic soybean use goes to soybean meal, primarily used as poultry feed in Southeastern states. Enhancing the efficiency of soybean transportation from the Midwest to the Southeast and across the globe was the focus of the Agri-Pulse webinar "How to Improve U.S. Infrastructure to Meet Demands for U.S. Soy."
Scott Gerlt, chief economist for the American Soybean Association (ASA), said soybean production is not the issue, as technological advancements and improved yields have led to rapid growth over the last 40 years. In 1980, there were about 70 million acres of soybeans in the U.S, which rose by almost 18 million acres in 2022 to 87.5 million acres.
"I think what's important when we talk about meeting growing demand is that yields nearly doubled," Gerlt said. "We increased area a little, but we doubled yields. Even in places where they weren't purposely growing more beans, now we're able to produce more from that same acre and so there's a need to be able to move more beans."
At the same time, the country has seen a geographical shift in soybean growing states moving further north. This shift compounds the need to efficiently transport soybeans southward, where demand for poultry feed is concentrated. According to WATTPoultry's Top Poultry Companies, 65% of the top 20 poultry companies in the U.S. are headquartered or have operations in southern states.
Increasing soybean demand: biofuels and beyond
In addition to the soybean meal market in the Southeast, soybean oil demand for food and biofuels has steadily increased. Biodiesel production facilities were historically concentrated close to the soybean producing region of the Midwest, however, renewable diesel facilities are now more dispersed throughout the country. Supplying this geographically diverse industry intensifies the need to address issues related to the domestic transportation of soybeans and soy products.
China has also begun to import a significant portion of its soybeans from the U.S.
"The growth of soy in the Northern Plains and the Pacific Northwest has been enabled by China becoming a major buyer in that region," Gerlt said. "In fact, during the trade war, when China wasn't taking U.S. beans, those beans had to sit for a while until China came back into the market."
Other major export destinations for U.S. soybeans include Mexico, Japan and Egypt. Although Egypt's current imports have declined, the United States Soybean Export Council (USSEC) is actively working to develop new regions for soybean demand, focusing on other parts of Africa and Asia as their populations and incomes increase. The efficient transportation of soybeans plays a critical role in our ability to increase demand for soybean meal and oil, both domestically and internationally.
Significance of the Mississippi River
The Mississippi River helps make U.S. soybeans competitive on a global scale, however, infrastructure issues could threaten U.S. soy's competitiveness. The Mississippi River is a natural and cost-effective route for transporting soybeans by barge, giving the U.S. the upper hand compared to soybean transportation costs for its global competitors.
U.S. soybeans enjoy a cost advantage of approximately $1/bushel when shipping to destinations like Shanghai, China, Gerlt said. Whereas Mato Grosso, a significant soybean-producing region in Brazil, faces higher costs because it relies primarily on truck transportation over long and often poorly maintained roads. The low-cost shipping available to U.S. locations with access to the Mississippi River compensates for factors like higher production costs and more expensive land in the U.S. compared to Brazil.
Transportation costs also play a crucial role in farm profitability. When transportation costs increase, it affects soybean basis levels — the difference between local prices and futures prices. Lower basis levels means farmers receive a reduced price for their soybeans, impacting profitability. This ripple effect underscores the importance of maintaining cost-effective transportation in the economic viability of soybean farming.
"Quite frankly, for farmers in general to be profitable, it's not just a function of growing the crop and it's not just a function of having demand for that crop," said Mike Steenhoek, executive director of the Soy Transportation Coalition (STC). "You have to have connectivity between supply and demand.
"You can't just get supply right. You can't just get demand right. You also have to get transportation right, and that's the third element that a lot of times is neglected," Steenhoek said.
Key infrastructure challenges
With increasing demand for soybeans and soy products, the need for efficient transportation will only grow. And as Brazil continues to expand its soybean production, U.S. transportation costs will remain a key factor in maintaining price competitiveness in a global marketplace.
Steenhoek focused on three main transportation challenges for the U.S. soybean industry:
Aging bridges: Bridges in rural America are in dire need of maintenance and replacement, with many counties facing the rapid deterioration and dilapidation of their bridges.
Funding shortfalls: The cost of replacing individual rural bridges can be prohibitively high — ranging from $300,000 to $1 million each. Rural counties typically have limited resources and lack the necessary funds to address this issue, leaving aging bridges to deteriorate into unsafe conditions.
Weather and climate: Things like flood conditions, drought conditions and hurricanes have impacted the movement of soybeans, as well as transportation infrastructure. Steenhoek said, "54% of our exports depart from a collection of export facilities along the lower Mississippi River between Baton Rouge, Louisiana, and the Gulf of Mexico. Obviously, whenever you have an active hurricane season — like we saw in 2021 with Hurricane Ida — that can have a detrimental impact on our supply chain."
To address these challenges, rural county farmers and the soybean industry are working with government authorities, seeking financial resources to repair and replace critical pieces of infrastructure.
Addressing transportation costs and challenges
The STC, a farmer-funded group, works to raise awareness and conduct analyses to find transportation solutions. They're currently engaged in several ongoing projects to deepen the Lower Mississippi River and increase the water depth from a minimum of 45 feet to 50 feet, making it more navigable for larger vessels. This enhancement of the river's navigational capabilities is crucial as the Lower Mississippi River serves as a key launching point for soybeans to ship to international markets.
Soybean farmers, represented by the Soybean Checkoff Program, directly contributed to funding this project and presented a $2 million check to Louisiana's governor to underwrite part of the pre-engineering and design expenses associated with the Mississippi River deepening project. The contribution helped bridge the funding gap, as transportation projects often involve significant cost sharing between federal and non-federal sources.
Collaborative efforts with Louisiana's government and the financial support of soybean farmers to advance the Mississippi River project highlights the significance of who advocates for a project and how frequently they advocate, Steenhoek said.
Expanding the number of stakeholders to advocate for transportation infrastructure improvements is a critical aspect of meeting demand for U.S. soy. By involving local authorities, soybean farmers, and state and regional leaders, the soybean industry can achieve a greater number of productive partnerships and overcome its greatest transportation challenges.