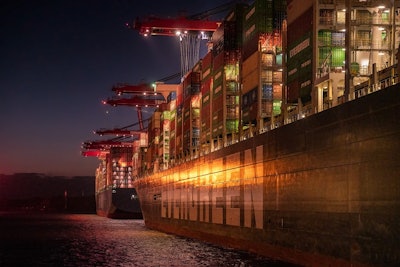 LoboStudioHamburg | Pixabay.com
The U.S. Department of Transportation's Maritime Administration (MARAD) announced over $653 million to fund 41 port improvement projects across the U.S. under the Port Infrastructure Development Program (PIDP).
The funding is designed to grow capacity and increase efficiency at coastal seaports, Great Lakes ports and inland river ports. The pressure on the global supply chains created by COVID has eased with more than a 90% decrease in the number of container ships waiting for berths at U.S. ports and global container shipping costs down by more than 80% from their peak in 2021.
U.S. Secretary of Transportation Pete Buttigieg said these investments continue the focus on improving U.S. ports and strengthening U.S. supply chains to be more resilient to shocks to the system in the future.
Projects were selected based on their ability to improve the safety, efficiency, or reliability of the movement of goods, as well as on how well they would improve port resilience.
Selected port projects
Agricultural Maritime Export Facility – Phase 2 ($9,276,352), Milwaukee, Wisconsin
The project will construct two grain storage silos, make electrical service upgrades, and fund purchase of additional grain and cargo handling equipment to expand the capacity of the port to handle the movement of grain commodities. The project will improve efficiency by expanding grain storage capacity for staging inbound and outbound grains by over 1.3 million bushels. The grain handling equipment will also expedite the movement of grains and the new facility will allow the port to handle two commodities simultaneously.
Port of Blencoe Infrastructure Development Project ($10,262,240), Blencoe, Iowa
The project will establish a new port at a site along the Missouri River. The project will consist of constructing a new commodity handling facility, storage for liquid commodities, receiving and handling equipment, conveyors, elevating legs and additional infrastructure development such as internal road construction and site leveling to accommodate use of the southern side of the property for heavy industrial use.
The project improvements will eliminate double handling of cargoes by streamlining transfers directly from barge to vessel and generate resulting improvements in safety, efficiency, and reliability. The project will benefit grain shippers by reducing transport costs by increasing competitiveness and the volume of grain that can be handled. The new facility will also decrease the travel time required for shippers to move their grain to market.
Wabasha Barge Terminal Project ($2,545,297), Wabasha, Minnesota
This project will construct a new inland river barge terminal at Upper Mississippi River Mile Marker 760 and develop the necessary access road and utilities to support its operation. The project will improve flood and supply chain resilience by creating a new terminal on the Mississippi River that will be constructed to be more resistant to flood related closure. The new terminal will also provide additional capacity for the movement of agricultural commodities and other cargo on the river.
Bulkhead Rehabilitation and Grain Barge Mooring Replacement Project ($1,989,246), Red Wing, Minnesota
The project includes a bulkhead replacement and replacement of four existing dolphin clusters used for grain barge mooring at the Port of Red Wing's barge fleeting offload–onload barge terminal.
Read the full list of projects here.