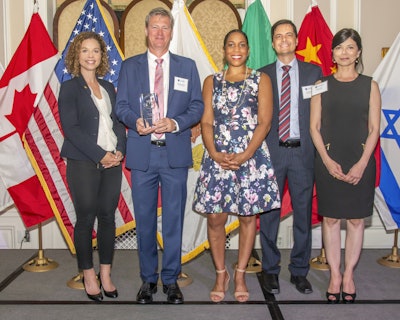 Lt. Governor Juliana Stratton and Erin Guthrie, Acting Director of the Department of Commerce and Economic Opportunity (DCEO) announced the recipients of the 2019 Governor's Export Awards during a ceremony at the Union League Club of Chicago on June 26th. The Governor's Export Awards honor Illinois companies that achieved excellence in exporting, as well as organizations that provide export assistance.
4B is proud to be announced as the 2019 Governor's Agricultural Exporter award winner. "It is an honor to receive the Governor's 2019 award for export. We appreciate the hard work, dedication and commitment of our many valued customers who's continued support over the years has enabled us to attain this prestigious recognition" Johnny Wheat, President 4B USA. "Exports are a vital component of our business and the 4B Group now sells to more than 80 countries worldwide"
4B Components Ltd was established in the USA in 1984 and is a subsidiary of the 4B Braime Group a worldwide manufacturer of bulk granular material handling components for both the commercial agriculture and industrial sectors. 4B leads the field in innovative mechanical and electronic components that help plants operate safer and more efficiently. With sales in over 80 countries the 4B group is committed to exports and the USA division's growth in Central and South America has helped consolidate 4B's global position. From elevator buckets to drop forged conveyor chain and electronic hazard monitors to level indicators 4B provides a diverse portfolio of products along with engineering design and support. Latest product innovations include HAZARDMON.COM a secure cloud based hazard monitoring platform, with temperature, speed and belt misalignment data recording and Industrial Ethernet systems that bring the Internet of Things (IoT) and Industry 4.0 within the grasp of facilities far and wide.