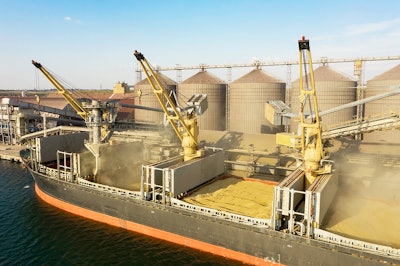 The Black Sea Grain Initiative brokered by the United Nations and Türkiye last July and extended in November will expire on March 18 unless an extension is made.
Ukraine will ask Türkiye and the UN this week to start talks to roll over the Black Sea grain deal, seeking an extension of at least one year that would include the ports of Mykolaiv, said Yuriy Vaskov, Ukraine's deputy minister of restoration, to Reuters in an interview. Currently, there is no date set yet for the talks.
Increased inspection teams to move grain faster
Vaskov said Ukraine would also insist on an increase in the number of inspection teams "in order to eliminate the accumulation of vessels waiting for inspections."
Ukraine has repeatedly accused Russia of delaying inspections of ships carrying Ukrainian agricultural goods, leading to reduced shipments and losses for traders.
U.S. Ambassador to the UN Linda Thomas-Greenfield said last month that Russia's attacks and continued blocking of some Ukrainian ports have decreased Ukraine's food exports by a third.
"Here's the truth," said Greenfield in her statement last month. "The Initiative's operations are not keeping pace with the strong global demand for Black Sea grain. Due to Russia's deliberate slowdown of inspections, dozens of ships are waiting to depart. And dozens more are waiting for inspections before they can bring their grain cargo to the world."
The Wall Street Journal Online reported that the Ukrainian Grain Association last week said the number of ships waiting for inspection has now risen to more than 140, up from fewer than 100 ships at the start of the year. It said Russia had deliberately delayed ship inspections to destabilize supplies, turning food into a weapon.
Where is Ukrainian grain going?
The Black Sea Grain Initiative was designed to alleviate global food shortages by helping to export Ukrainian grain safely to the poorest countries in the world.
A recent investigation by the Austrian outlet eXXpress, however, says that didn't happen. Almost half of the Ukrainian wheat and corn exports to the EU ended up feeding pigs in Spain.
According to eXXpress, only 15% of the exports ended up in the countries at risk of famine, including 167,000 tons in Ethiopia and 65,000 tons in Sudan. Spain, on the other hand, received 2.9 million tons of wheat and corn from Ukraine.

Russia wants sanctions lifted
Last week, Russia said it would be "inappropriate" to extend the Black Sea grain deal unless sanctions affecting its agricultural exports are lifted and other issues are resolved.
Russia has signaled that it is unhappy with some aspects of the deal and asked for sanctions impacting its agricultural exports to be lifted.
Russia's agricultural exports have not been explicitly targeted by Western sanctions, but Moscow says blocks on its payments, logistics and insurance industries are a "barrier" to it being able to export its own grains and fertilizers.
Extension could boost Ukrainian grain exports
Ukraine's grain exports were down 28.7% at 30.3 million tonnes in the 2022/23 season as of February 20, caused by a smaller harvest and logistical difficulties from the Russian invasion.
Ukraine exports around 3 million tonnes of agricultural products a month under the deal, but Vaskov said Ukraine was able to export 6 million tonnes a month from the ports of Odesa region and boost it to 8 million tonnes if Mykolaiv joins.
Despite a decrease in the 2022 grain harvest to around 54 million tonnes from a record 86 million in 2021, at least 30 million tonnes of grain are still in silos and could be exported, according to the agriculture ministry.