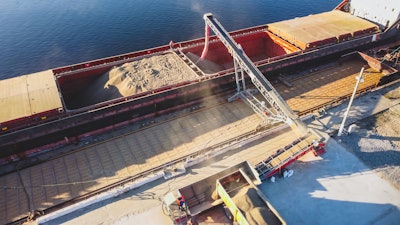 Russia has declared it would be "inappropriate" to extend the Black Sea grain deal unless sanctions affecting its agricultural exports are lifted and other issues are resolved, Reuters reported.
The Black Sea Grain Initiative, signed by Russia and Ukraine last July, created a protected sea transit corridor designed to alleviate global food shortages by allowing exports to resume from three ports in Ukraine: Chornomorsk, Odesa and Yuzhny/Pivdennyi.
The agreement, brokered by the UN and Türkiye, was extended by a further 120 days in November and is up for renewal again in March.
Russia has signaled that it is unhappy with some aspects of the deal and asked for sanctions impacting its agricultural exports to be lifted.
Russia's agricultural exports have not been explicitly targeted by Western sanctions, but Moscow says blocks on its payments, logistics and insurance industries are a "barrier" to it being able to export its own grains and fertilizers.
Russia briefly backed out of the deal in October
In October 2022, Russia pulled out of the grain deal citing an alleged Ukrainian drone attack against Russia's Black Sea Fleet ships moored off the coast of occupied Crimea as the reason for the move. Ukraine denied the attack, saying the Russians mishandled their own weapons.
Russia rejoined the deal days later following negotiations with the UN and Türkiye.
Blockade impacts Ukraine's exports
Since the grain deal in July, Russia has been accused of deliberately holding up inspections to slow down grain shipments in an effort to discredit the Black Sea Grain Initiative. Russia has also falsely alleged that grain shipments have not made it to countries that need it most.

U.S. Ambassador to the UN Linda Thomas-Greenfield said in January that Russia's attacks and continued blocking of some Ukrainian ports have decreased Ukraine's food exports by a third.
Ukraine has exported almost 15.6 million tonnes of grain so far in the 2022/23 season, down 30.8% from the 22.5 million tonnes exported by the same stage of the previous season
"Here's the truth," said Greenfield in her statement. "The Initiative's operations are not keeping pace with the strong global demand for Black Sea grain. Due to Russia's deliberate slowdown of inspections, dozens of ships are waiting to depart. And dozens more are waiting for inspections before they can bring their grain cargo to the world."
This backlog means extra expense and extra delay for millions of tons of grain, a majority of which is destined for developing countries, said Greenfield.
"The backlog means 2.5 million tons of grain are just sitting there, waiting to move, and farmers in Ukraine are waiting to plant," Greenfield continued. "Some ships have been waiting for over a month. Grain is moving at just half the rate of the pace back in September and October."
The Initiative should operate as it was envisioned, moving five million tons of food per month, said Greenfield.
Related reading
One year later: Grain industry impacts from the Russia-Ukraine war