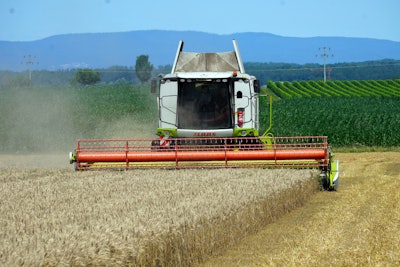 Ukrainian grain is again flowing, pushing down global prices as the newly opened crop-export corridor shows some initial success, reports Bloomberg.
More than 500,000 tons of foodstuffs aboard 25 ships were exported from the country's major Black Sea ports in the first half of August, under a deal agreed late last month. That's far below a normal pace, but is providing some relief to grain supplies strained by Russia's invasion and bad weather curbing harvests elsewhere.
Ukrainian harvest is 91% complete
Ukraine's 2022 wheat harvest is 91% complete at 17.4 million tonnes despite hostilities in eastern and southern regions, grain traders union UGA told Reuters on Friday.
The union's statement said farmers had harvested a total of 25.7 million tonnes of grains and oilseeds so far.
In 2021, Ukraine harvested a record 86 million tonnes of grain, including 42.1 million tonnes of corn and 32.2 million tonnes of wheat.
The government has said that this year's harvest could fall to about 65 to 67 million tonnes of grain and oilseeds.
International Grains Council adjusts global output downward
Global output of grain is expected to fall 2% in 2022-23, led by a reduction in corn and rice production, the International Grains Council said.
IGC has cut grain forecasts for the current year by 4 million metric tons to 2.248 billion tons, and consumption estimates by 3 million tons to 2.274 billion tons
In the 2021-22 season, global grain production came in at 2.291 billion tons.