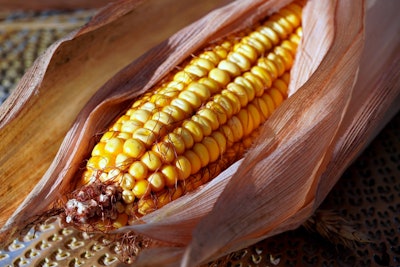 Domestic corn supplies will be bigger than previously reported as competition from other exporters and relatively high U.S. prices have resulted in slow sales and shipments through early December.
U.S. stocks of corn will total 1.257 billion bushels at the end of the 2022/23 marketing year, the USDA said in its December World Agricultural Supply and Demand Estimates (WASDE) report.
Outlooks for soybean and wheat stocks remain unchanged, with wheat at a 15-year low of 571 million bushels and soybeans projected at a seven-year low of 220 million bushels.
USDA also cut its outlook for U.S. corn exports by 75 million bushels to 2.075 billion.

WHEAT: This month's 2022/23 U.S. wheat supply and use outlook is unchanged from last month. There are offsetting changes for exports by-class with Hard Red Spring and White higher and Soft Red Winter lower.
The 2022/23 season-average farm price is forecast $0.10/bushel lower at $9.10, based on prices received to date and expectations for futures and cash prices for the remainder of 2022/23.
The global wheat outlook for 2022/23 wheat is for reduced supplies, lower consumption, increased trade and reduced stocks.
Supplies are lowered 2.1 million tons to 1,056.9 million on reduced production for Argentina and Canada that is only partly offset by higher Australia production. Argentina is lowered 3.0 million tons to 12.5 million with reductions in both area harvested and yield on continued widespread dry conditions. This would be the lowest production since 2015/16. Canada's production is reduced 1.2 million tons to 33.8 million, based on the latest Statistics Canada estimate and is the third largest crop on record. Australia's production is raised 2.1 million tons to a record 36.6 million, based on the latest Australian Bureau of Agricultural and Resource Economics (ABARES) forecast.
Global consumption is reduced 1.6 million tons to 789.5 million, mainly on lower feed and residual use by the EU and Ukraine. World trade is raised 2.2 million tons to 210.9 million on higher exports by Australia, Ukraine, the EU, and Russia more than offsetting reduced exports by Argentina. Australia exports are raised 1.5 million tons to a near-record 27.5 million.
Because of excessive rains in New South Wales at harvest, Australia's feed wheat supplies are expected to be greater for 2022/23 and competitively priced against feed grains for East Asian importers. This resulted in higher imports for South Korea and several Southeast Asian countries this month. Ukraine exports are increased 1.5 million tons to 12.5 million. Argentina's exports are reduced 2.5 million tons to 7.5 million with lower exportable supplies. This would be Argentina's lowest exports since 2014/15. Projected 2022/23 ending stocks are decreased 0.5 million tons to 267.3 million as reductions for Russia, Canada, Argentina, and Ukraine more than offset increases for the EU and Australia.
COARSE GRAINS: This month's 2022/23 U.S. corn outlook is for lower exports and greater ending stocks.
Exports are lowered 75 million bushels as competition from other exporters and relatively high U.S. prices have resulted in slow sales and shipments through early December.
With no other use changes, corn ending stocks are raised 75 million bushels.
The season-average corn price received by producers is lowered 10 cents to $6.70/bushel based on observed prices to date.
For 2022/23 sorghum, a substantial decline in demand from China supports greater domestic use expectations. Exports are lowered 20 million bushels, with offsetting increases to food, seed, and industrial and feed and residual use. WASDE-631-2 Global coarse grain production for 2022/23 is forecast down 5.9 million tons to 1,453.6 million.
The 2022/23 foreign coarse grain outlook is for lower production, greater trade and smaller stocks relative to last month. Foreign corn production is reduced with forecast declines for Ukraine, Russia, the EU and Vietnam.
Ukraine corn production is sharply lower with reductions to both area and yield as the ongoing conflict and record-setting autumn rainfall have delayed the harvest in key producing oblasts of Poltava, Sumy and Cherkasy.
Russia corn production is lowered as harvest delays in the country reduce area expectations. Barley production is raised for Australia based on the most recent crop report from ABARES. Argentina barley production is cut on continued dry conditions. Corn exports are raised for Ukraine but lowered for the United States, Russia and the EU.
Barley exports are raised for Australia but lowered for Argentina. For 2021/22, sorghum exports for Argentina are lowered for the local marketing year beginning March 2022, based on shipments through the month of November.
For 2022/23, corn imports are raised for the EU, but lowered for Canada, Iran, South Korea, Mexico, Vietnam, Philippines and Turkey. Sorghum imports are reduced for China.
Foreign corn ending stocks are down, reflecting reductions for Ukraine, Paraguay, Vietnam and Mexico.
Global corn stocks, at 298.4 million tons, are down 2.4 million.
OILSEEDS: Total U.S. oilseed production for 2022/23 is forecast at 127.9 million tons, up slightly due to an increase for cottonseed.
Soybean supply and use projections for 2022/23 are unchanged from last month.
Based on a review of EPA's recent proposed rule for renewable fuel obligation targets, soybean oil used for biofuel for 2022/23 is reduced 200 million pounds to 11.6 billion.
Soybean oil exports are also reduced on historically low export sales through November.
With reduced use of soybean oil for biofuel and exports, food use and ending stocks are raised.
The U.S. season-average soybean price forecast is unchanged at $14/bushel.
The soybean oil price is reduced 1 cent per pound to 68 cents.
The soybean meal price forecast is increased $10 to $410/short ton.
Global oilseed production for 2022/23 is projected at 644.4 million tons, down 1.2 million from last month.
Lower sunflower, rapeseed, palm kernel and cottonseed production forecasts are partly offset by higher soybean output. Global sunflowerseed production is reduced for Russia and Ukraine based on harvest results.
Canola production for Canada is lowered 0.5 million tons to 19.0 million based on government reports. Palm kernel and palm oil production is lowered for Indonesia for 2021/22, reflecting crop losses during periods of export restrictions and poor harvest weather. Indonesian palm oil production for 2022/23 is also lowered 1.0 million tons to 45.5 million.
The global soybean outlook includes higher production, exports, and ending stocks. Production is raised on higher output for India and Ukraine.
Exports are raised slightly as higher shipments for Argentina are partly offset by lower exports for Canada and Paraguay. With global crush relatively unchanged, ending stocks are raised 0.5 million tons to 102.7 million.