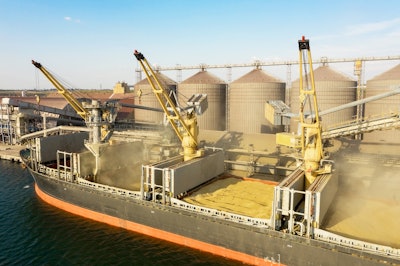 Volatility will be the theme for the agricultural industry in 2023.
Dr. Seth Meyer, chief economist for the U.S. Department of Agriculture (USDA), spoke at the National Grain and Feed Association's (NGFA) Country Elevator Conference in St. Louis on December 7 and said volatility will touch everything from wheat markets to fertilizer prices to weather in 2023.
"We're experiencing a tremendous amount of volatility," said Meyer. "Volatility is at the highest it's been in the last 10 years. Wheat markets, for example, will continue to be incredibly volatile in the coming year."

When it comes to agriculture, Meyer highlights three areas that will impact the industry in 2023.
1. Ukraine-Russia war
The 10-month-old conflict between Russia and Ukraine will continue to influence the agricultural industry.
One major impact for producers is fertilizer prices. Nitrogen prices are already at high levels and fertilizer analysts don't believe prices will decline any time soon. It's not just the war in Ukraine that impacts nitrogen fertilizers, says Meyer, but also rising natural gas prices, weather and currency concerns.
"Overall, the Russia-Ukraine conflict provides continuous uncertainty within our estimates of global grain balances," said Meyer.
Recently, Russia has been taking out the electrical system in Ukraine, and most of the rail transit in Ukraine is done by electric train and not diesel.
"Grain is moving, but grain transit is severely impacted as the war continues," he said. "The war is just a continuous source of uncertainty as we move into 2023."
2. U.S. trade deficit
Data from USDA's Foreign Ag Service is showing while the U.S. is expected to have record agricultural exports for the marketing year, the industry is still posting a trade deficit, said Meyers.
U.S. agriculture has posted a positive trade balance nearly every year for the past 30 years, but 2022 is shaping up to be one of the few where the U.S. sees a trade deficit, and this will continue into the new year.
Reuters recently reported the U.S. trade deficit widened sharply in October as slowing global demand and a strong dollar pushed goods exports to a seven-month low. The trade deficit increased 5.4% to $78.2 billion.
China is also slowing down its soybean imports, noted Meyers.
The country cut back on soybean purchases earlier in 2022 after global prices soared and domestic needs contracted, following heavy losses suffered by hog producers due to African swine fever.
Imports in the first 11 months of the year were down 8.1% at 80.53 million tonnes, the data from the General Administration of Customs showed.
U.S. Customs data showed that China's November imports of soybeans fell 14% on the year to 7.35 million tonnes.
3. Farm income 'looks good'
USDA released its Farm Sector Income & Finances: Highlights from the Farm Income Forecast in early December, and Meyer said farm income is looking "very, very good."
Net farm income, a broad measure of profits, is forecast at $160.5 billion in calendar year 2022, an increase of $19.5 billion (13.8%) in 2022 relative to 2021
Net cash farm income is forecast at $187.9 billion in 2022, an increase of $39.4 billion (26.5%) relative to 2021
Cash receipts from the sale of agricultural commodities are forecast to increase by $105.7 billion (24.%, in nominal terms) from 2021 levels to $541.5 billion in 2022
"A lot of the overall increase for producers is coming from grain movements," said Meyer. "Yes, we're going to have volatility coming into the year, but markets can come back even with some of this uncertainty."
___________________________________
Dr. Meyer was previously the head of the World Agricultural Outlook Board (WAOB) in the Office of the Chief Economist (OCE), the agency at USDA charged with bringing together USDA resources in the assessment of crops around the world. The OCE also publishes those finding in the 'WASDE' report which is closely watched by agricultural markets here and abroad.