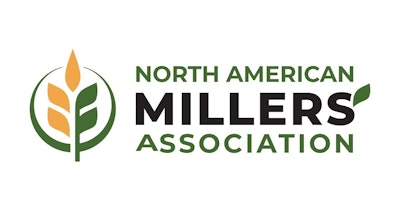 The North American Millers' Association (NAMA) announced the following staffing updates to strengthen the organization's legislative, regulatory and international trade capabilities.

Molly Miller, vice president, Regulatory and Technical Affairs
Molly Miller joins NAMA from BASF, where she led the company's lobbying and advocacy on trade, supply chain, biotechnology, and tax issues. Miller brings substantial regulatory expertise honed as part of BASF's Agriculture Solutions business.
Earlier in her career, she spent nine years with the U.S. Environmental Production Agency, overseeing grants and compliance. Miller credits her love of the agriculture industry to involvement in FFA during high school that led her to pursue a degree in agricultural education at the University of Georgia.

As vice president, Regulatory and Technical Affairs, Miller will provide oversight of NAMA's engagement on a range of issues including food and feed safety, research, biotechnology, and worker safety. Collaborating with others on the NAMA team, she will conduct outreach to federal agencies including the U.S. Food and Drug Administration and industry stakeholders to build strong relationships on behalf of the milling sector.

"After an extensive search to fill this critical role, we are thrilled to welcome Molly to the NAMA team," said NAMA President Jane DeMarchi. "She brings valuable experience from throughout the agriculture supply chain that will benefit the milling industry. Continuing our strong working relationship with FDA and other agencies is a top priority for NAMA."
Stephanie Grunenfelder, International Trade Consultant
Stephanie Grunenfelder brings decades of experience developing trade promotion opportunities for agricultural associations. Before establishing her consulting firm, she led international marketing campaigns for the American Peanut Council funded by USDA's Market Access Promotion, Foreign Market Development, Ag Trade Promotion, and Emerging Market Development programs.
She also led food aid initiatives on behalf of the peanut industry. Grunenfelder earned degrees from Harding University and Florida International University. Raised on a corn and soybean farm in east central Indiana, her agriculture roots run deep.

As International Trade Consultant, Grunenfelder will focus on implementing the Emerging Markets Grant that NAMA was recently awarded to promote the use of U.S. milled grains and address trade barriers in Kenya and surrounding countries. She will also support the milling industry's involvement in the USAID Food for Peace and McGovern-Dole Food for Education Programs.

"Stephanie understands how to navigate the complexity of international markets," DeMarchi said. "She will help us remain an important partner in food aid programs. The milling industry is proud of the role it plays in combating growing hunger around the world."
Kim Z Cooper, senior director, Government Affairs
Kim Cooper joined NAMA as manager, Government Affairs in 2019. Her new title of senior director, Government Affairs, reflects her accomplishments in setting and implementing the organization's public policy goals. Her focus will continue to be engaging with Congress and other stakeholder organizations to advance NAMA's mission.

Prior to NAMA, Cooper's experience includes working in government affairs on behalf of the National Head Start Association and Growth Energy and serving as a field organizer for the Hillary for America presidential campaign. She is a graduate of The George Washington University.

"Kim has shown herself to be an essential part of NAMA's team. Most recently she was a key advocate for the industry in helping to avert the rail strike," DeMarchi said. "We are glad to have her expertise on a wide range of issues from appropriations to transportation as we move into the new Congress."