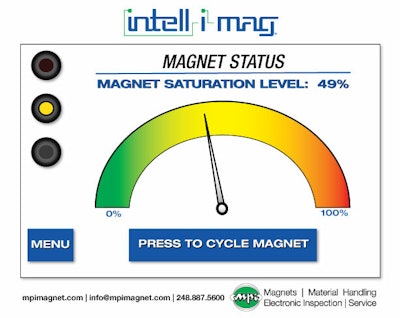 The GEAPS Idea Exchange took place Sunday, March 27, in Kansas City.

There was an exciting amount of new products featured during this year's event and Feed & Grain will be highlighting them in its online Buyer's Guide and future print issues.
Here's a sample of some of the products presented at Idea Exchange 2022.
MPI Intell-I-Mag: The first magnet with smart technology that talks to you

Arnco The DumoPro: Ambient air dust monitor for industrial environments
The Greenbrier Co. Tsunami Gate and Tsunami Automated Hatch Cover: Specifically made for grain, this gate allows for customized discharge speed control to fit shipping needs
Grain Weevil Safety Robot: Keeps employees out of bins by leveling, breaking crusts, doing inspections and feeding grain into the extraction augers

Feed Yard Industrial Solutions FlakeBoss: Collection of equipment and automation applications designed to provide a steam flaked grain

Pneumat Systems HopperBot: Unload sticky dry bulk materials like DDGs and meals from railcars
MākuSafe Wearable Tech Solution: Designed to improve worker health, safety, and productivity while reducing incidents and mitigating workplace hazards and risk exposures
AGI SureTrack Lidar Device: Automated grain bin and monitoring and conditioning system