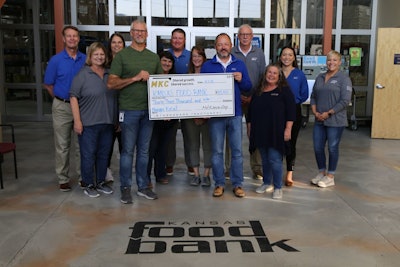 MKC LinkedIn page
MKC has donated $33,000 to the Kansas Food Bank with the help of Land O' Lakes.
After the check presentation, part of MKC's leadership team and community involvement committee volunteered for two hours bagging lunches for schools across Kansas, providing 1,376 meals.
"On behalf of our member-owners, MKC is honored to give the Kansas Food Bank a gift of both time and money," said Brad Stedman, president and CEO of MKC. "Their work and assistance provide food and well-being to those who are in need."
MKC is proud to partner with the Kansas Food Bank in their efforts to alleviate hunger, said Stedman.
"While the cost of living remains high, many of our neighbors are challenged to keep enough food on the table," said Brian Walker, president andCEO of the Kansas Food Bank. "Food is not a luxury, it is a necessity that everyone needs. This gift will help us provide our food-insecure neighbors with healthy meals and nutritious food. We appreciate the partnership, support and generosity from both MKC and Land O' Lakes."