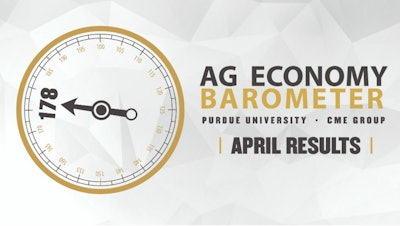 The April reading of the Ag Economy Barometer was 178, virtually unchanged from a month earlier when the index stood at 177 and just 5 points below its all-time high of 183, which was set back in October.
Compared to March, however, there was a small change in producers' perspective on the ag economy as they became more optimistic about the future, while their appraisal of the current situation waned.
In April, the Index of Future Expectations rose 5 points to 169, whereas the Index of Current Conditions moved down 7 points to 195. Both of the barometer's sub-indices remain historically strong, with the Index of Current Conditions just 3% below its all-time high and the Index of Future Expectations reaching its second-highest reading since the survey's inception in fall 2015.
The Ag Economy Barometer sentiment index is calculated each month from 400 U.S. agricultural producers' responses to a telephone survey. This month's survey was conducted from April 19-23, 2021.
Read the full report here.
While the Ag Economy Barometer was virtually unchanged in April compared to March, producers indicated more optimism about the future and a bit less optimism about current conditions than a month earlier.
Ag producers continue to report expectations for very strong financial performance on the part of their farms and expect farmland values to continue to rise over the next year. However, producers were a bit less optimistic about the long-term outlook for farmland values, suggesting there might be some concern that recent farmland price rises might not be sustainable.
Despite expectations for their farms' strong financial performance, farmers were less inclined to think now is a good time for large investments in buildings and equipment than they were in March.
However, when queried more specifically about their farm machinery investment plans, more producers in April said they planned to increase their farm machinery purchases than in March.
Possible changes in U.S. tax policy are on the minds of ag producers. Ninety-five percent of survey respondents are either somewhat or very concerned that changes in tax policy being considered will make it more difficult to pass their farms on to the next generation.