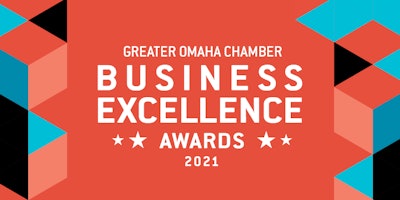 Scoular was the winner of a 2021 Business Excellence Award for Philanthropy from the Greater Omaha Chamber. The award honors organizations that embrace a philosophy of giving and make a significant impact on the Omaha metropolitan community's health and well-being.
The award is part of an annual tradition recognizing Omaha-area organizations in each of four categories: Philanthropy, Leadership, Innovation and Sustained Excellence. More than 70 companies were nominated for this year's awards, with just 25 identified as award recipients, "trailblazers who go above-and-beyond every day," according to event organizers.
"Businesses are vital to thriving communities – catalyzing innovation, creating jobs and building connections. We like to say 'excellence is earned, not given;' and that's true of the 25 organizations we honor today. These organizations are beyond excellent. They are exceptional," said David G. Brown, president and CEO, Greater Omaha Chamber.
Engaging in our communities is among Scoular's sustainability pillars, and compassion is a company value. Scoular donates a percentage of its annual profits to the Scoular Foundation, which builds long-term, impactful partnerships with nonprofits and community organizations and invests in areas of importance to Scoular employees and community partners. For example, instead of hosting annual holiday parties in 2020, Scoular donated $120,000 to various food banks across the United States, including in many rural communities where Scoular employees work and live.
"Scoular has a deep history of harnessing the time, talent and treasure of Scoular and its employees to enable our community partners to redefine what's possible in their community impact," says Scoular SVP & General Counsel and Scoular Foundation Trustee Megan Belcher. "We consistently seek to enhance the quality of life where our employees and stakeholders work and live and are excited about how the inclusion of our world-wide community engagement into our sustainability platform will continue to enrich this work."