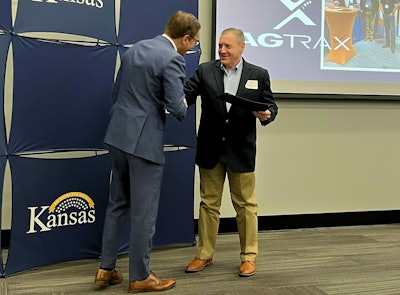 AgTrax was recognized today by the Kansas Department of Commerce with an esteemed Merit Award Certificate for the South-Central region | Business Appreciation Service category.
David Toland, Kansas Lieutenant Governor & Secretary of Commerce, presented the Award to Michael Hinton, AgTrax director of Sales & Marketing, as part of the "To the Stars: Celebrating Kansas Businesses' Appreciation Luncheon," held at Butler Community College in Andover, KS.
AgTrax was one of 29 businesses from the 14-county region acknowledged for its 'advanced technology software services' and economic impact.
For 26-years and counting, AgTrax has been the 'game-changing leader' in the agribusiness software market, having contributed significantly to the global agriculture industry, inclusive of: the State of Kansas and the Hutchinson/Reno County ag community, a majority of the top U.S agriculture-producing states, and the second-largest province in central Canada. AgTrax attributes its longevity and success to listening to and learning from its customers.
"AgTrax and its employees are honored to have been recognized with this prestigious Kansas Business Award," stated Michael Hinton. "We value the work the Kansas Department of Commerce is doing to lead economic development within the State (in conjunction with the Hutchinson/Reno County Chamber of Commerce); as well as their support of businesses like AgTrax, that proudly call Kansas home."