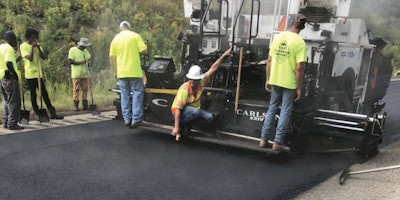 Iowa State University (ISU) researchers are closing in on the commercialization of a bio-based polymer made from soybean oil that can replace the petroleum-based polymers currently used as the binding agent in asphalt.
This is good news for U.S. soybean farmers who need a win amid ongoing trade disputes, a renewable fuels standard in limbo, a Chinese hog herd decimated by African swine fever and increased global oilseed supplies.
A recent biodiesel study shows a 12.9-cent increase in the price of soybean oil/ pound, which equates to a 74-cent/bushel increase in soybean prices. It also equates to a $25/ton decrease in the cost of soybean meal, which is advantageous for Iowa's livestock farmers.
There are about 1.6 billion pounds of oil used in the polymer binders annually from three market segments combined — polymer-modified pavements, pavement rejuvenation and road maintenance products.
Given the durability and environmental advantages over more expensive petroleum-based polymers, it's not unrealistic that hundreds of thousands of tons of soybean oil could be used annually.
Information provided by the Iowa Soybean Association. To learn more, visit iasoybeans.com.