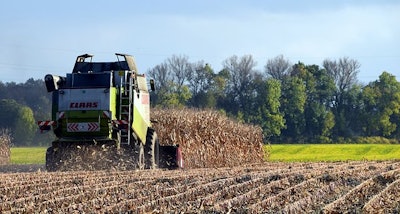 Due to heavy snow and cold weather throughout the Midwest, harvest 2019 will go down as the fourth slowest national harvest pace on record. The USDA's National Agriculture Statistics Service issued its last Crop Progress report for the year on Dec. 9, measuring the progress of the approximately 6 million still unharvested acres.

Compounding the weather, a propane shortage left many unable to use their grain dryers, further slowing down progress. At press time, a snapshot of the USDA data for the 2019 harvest shows a troubling outlook.
Corn
By the week ending Dec. 8, North Dakota was not even halfway done harvesting corn. It finished the year at the slowest pace for the state on record. Michigan and Wisconsin were both only 74% complete — more than 20 points behind the recent average (Table 1).
Corn condition suffered in the top three corn producing states of 2018: Iowa, Illinois and Nebraska (Figures 1-3), with producers reporting low test weights and a high rate of broken kernels.

Soybeans
The soybean harvest paced better than corn with NASS releasing data as late as Dec. 2. Table 2 illustrates the top five states farthest from soybean harvest completion at the time. Once again Michigan and Wisconsin were significantly behind the recent average thanks to muddy conditions and freezing temperatures keeping producers out of the fields.
Poor weather impacted soybean condition across several states, as shown in figures 3-6.
The top three soybean producers of 2018 — Illinois, Iowa and Minnesota — all experienced some of the worst crop conditions in years with Minnesota hit the hardest. ■