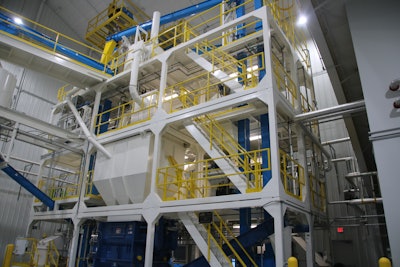 Elise Schafer
The engineering staff at Weitz Professional Services, alongside Gerald Leukam, vice president, design services-industrial, has a history of designing and constructing modular feed production facilities around the world, including at the Cargill Animal Nutrition Innovation Center in Elk River, Minnesota, CalPoly in San Luis Obispo, California, and Auburn University in Alabama.
Modular fabrication is the process of building and constructing equipment in an offsite facility, then delivering the completed product to a worksite for installation and integration into the operation. Three key advantages of modular construction for feed mills are:
1. Safer construction: Construction safety is a key benefit of modular construction. As with any prefabricated construction practices, performing work at a lower elevation reduces the risk of the work for construction crews. Much of the equipment installation is done within the confines of the handrail-protected modules, greatly reducing the need for construction lifts, scaffolding and ladders.
"Our Weitz-Cargill strategic partnership allowed our teams to meet routinely at both project and corporate levels, opening the communication channels to share lessons learned, best practices and Key Performance Indicators (KPIs). Our organizations share a culture of 'lead with safety' that extends beyond just the construction site" — Alex Westlind, business development director, industrial, for Weitz.
"We strive to design-out safety hazards for both constructing and operating feed facilities," said Alex Westlind, business development director, industrial for Weitz. "Our partnership allows us to share design and project successes from other industries and integrate pieces into our feed mill projects. These innovative ideas go beyond facility layouts and safety methods, but includes contracting methods and modular construction, leading to safer and faster projects."
2. Quicker completion: Modular construction shortens the construction timeline because site work, enclosure building foundations, building construction, along with interior finishing can all occur simultaneously alongside the fabrication of the structural modules and equipment installation within the modules. Even the majority of the electrical power and control wiring, steam system, liquid piping and compressed air piping can be installed offsite.
"Projects that require a 'faster-to-market' construction schedule benefit from the shorter construction schedule of a modular concept," Leukam said. "It offers advantages for projects that have a short shutdown schedule that allows only a short time window to 'slip in' a modular designed and fabricated system."
3. Enhanced quality: The quality of any construction can be improved when it occurs out of nature's elements. Fabrication done in an environmentally controlled space leads to more efficient work, as well, while reducing construction workers' exposure to safety hazards and physical and mental stress.
Read more about Cargill's new Global Animal Nutrition Innovation Center in Elk River, Minnesota in the October/November 2023 issue of Feed & Grain.