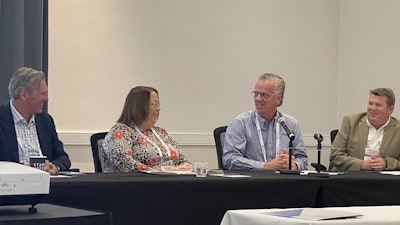 Elise Schafer
The COVID-19 pandemic has reshaped how businesses operate and the American workforce in countless ways. A positive outcome for feed manufacturing equipment users is suppliers have increased investment in finished product and component inventories to be able to meet customer demand under any circumstances.
The panel discussion "Pandemic Lessons Learned to Help Manage Your Business Better in the Future," at the 2023 Equipment Manufacturers Conference in Tucson, Arizona, highlighted key business decisions that leading feed manufacturing and grain handling equipment manufacturers made since the wake of COVID-19.
During the pandemic, manufacturers industry-wide dealt with component shortages, causing backups in production and customer deliveries. Today, panelists said they've prioritized keeping adequate stock on hand of equipment components to avoid the risks associated with the long lead time of component deliveries.
"I work closely with our purchasing manager, and we carefully monitor the lead times of our component parts," said Alicia Sweet Hupp, president & CEO of Sweet Mfg. Co. "I've made significant investment in inventory of these components with longer lead times so that we can maintain our own lead times.
"It's like a domino effect," she added. "We don't want to be that wrench in their system for completing their projects."
Sweet-Hupp's close attention to lead times has sustained long after the COVID-19 supply chain issues have resolved in order to keep customers satisfied by maintaining their project schedules.
Terry Medemblik, president of WALINGA USA, Inc., said one thing they did differently during the pandemic was look at the main components for their trailers and try to build relationships with secondary suppliers.
"Hendrickson's suspension is our primary go-to," Medemblik said. "The vast majority of our customers are using Hendrickson's suspension, but now we've got to look at a secondary supplier or a hydraulic model. Instead of being zoned in on one component supplier, we've started to build and strengthen relationships with secondary suppliers. Of course, there aren't a lot of suppliers that have a highly acceptable component like Hendrickson, so you've got to find someone who's going to handle the same challenges and then build a relationship with them."
Prioritize risk management
Panel moderator Nate Bingaman of D1 Resources said businesses have learned to prioritize risk management since the pandemic.
"We all had alternatives to challenges, but we didn't really strengthen those relationships until we had to," Bingaman said. "Now we line up alternative suppliers and have developed those relationships, knowing what that next decision might be instead of waiting for it to become a problem."
In other cases, the component shortage spurred an investment in product engineering, according to Johnny Wheat, president of 4B Components, Ltd.
"We make electrical products that can have up to 300 different components," Wheat said. "We looked at some of those and thought 'Surely, we can reduce the number of components here.''"
Without sacrificing quality or safety, 4B's engineering team took a closer look at its product lineup and identified where it could reduce the number of components required to avoid backups from any future component shortages.
Suppliers become more proactive
The COVID-19 pandemic has prompted feed manufacturing equipment suppliers to address the component shortages experienced during the crisis by enhancing inventory stocks, diversifying supplier relationships and reengineering product offerings. A newly elevated priority on risk management highlights how suppliers have become more proactive as a result of lessons learned during COVID-19.
The 2023 Equipment Manufacturers Conference was held at Omni Tucson National in Tucson, Arizona, November 8-10. Organized by AFIA's Equipment Manufacturers Committee, the yearly gathering focuses on informing the feed industry's equipment sector about present issues and trends. Participants encompass equipment manufacturers, installers, contractors, and users from the feed manufacturing sector. Additionally, the event generates scholarship funds, which are subsequently distributed through the Institute for Feed Education and Research (IFEEDER).