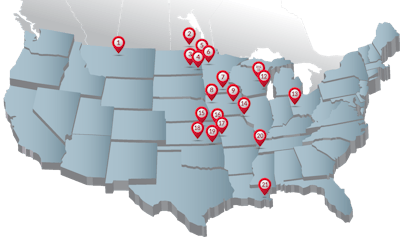 Reporting by Steven Kilger and Elise Schafer
Due to myriad factors, commercial grain facility construction and renovations have been tracking upward for at least two years. The demand for facility upgrades and new construction is not only in response to aging domestic material handling equipment, but also rising demand for co-products like soybean oil.

New and expanding soybean crushing plants comprise more than half of the projects highlighted in Feed & Grain's construction roundup map this year. Driven by the Biden Administration's pledge to strengthen climate change policies like the Renewable Fuels Standard, which mandates the level of renewable fuel blended into transportation fuel each year, investment in soybean crushing plants by major players is ramping up to an all-time high.
Read on for a sampling of both greenfield and expanded or upgraded grain storage, shuttle loading, inland terminal, export facility and grain processing projects slated to come online within the next few years.
Editor's Note: New and newly upgraded feed mills, feed pre-mix plants and feed ingredient manufacturing facilities are excluded from this edition. Please see the January 2023 issue for Feed & Grain's Construction Roundup: Feed Manufacturing Facilities.