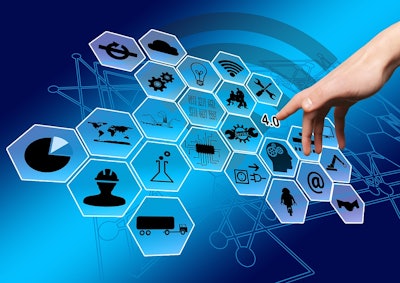 There's a new term that you may have heard in conversations lately about technology, the Internet of Things (IoT). And you may be wondering what it means, how will it affect your life, and how will it change the way you work.
IoT refers to connecting items to the internet other than computers. Over the past few decades things like phones, speakers, refrigerators and televisions were able to be connected due to the expansion of wireless technology. IoT can also include components in an aircraft engine, a generator at a hospital, or a pellet mill at a feed manufacturer.
"Over the past two decades the cost of sensors has come down significantly," says Pete Ensch, chief executive officer at WEM Automation. "This combined with a faster computer and network speeds enables to connect to all the critical electromechanical systems cost effectively."
IoT became part of our lives years ago, even if we didn't notice. Just think about the smartphone in your pocket. Now the devices and components we didn't notice getting connected are poised to transform the way companies do business — including those in grain handling, feed manufacturing and agribusiness overall. IoT will do this by gathering vast amounts of data and turning it into something digestible by decision makers in real time.
Getting "connected"
The amount of equipment that can be "connected" to the IoT is rapidly expanding, while the sheer number and types of data that can be gathered is overwhelming. The first step IoT experts suggest is to figure out a game plan.
"Nowadays, it's easy to start gathering gigabytes of data," says Ensch. "The first step is to do some homework and determine what the goal is. The big question up front should be, what do you want to do with this data?"
After this initial conversation, talk with an expert on the equipment involved with the problem. They can give more information on what data can be gathered and how to accomplish the goal.
"With grain storage, an individual farmer or commercial operation needs to decide if they want to track temperature, weather, moisture or a combination of the three," says Dave Crompton, chief executive officer, OPIsystems Inc. "The user has to decide what the challenges are or what kind of experience they have had in the past. We can mix and match the number of cables and the number of cable sensors, based on what data needs to be gathered."
Once the operator figures out what their issues are, what data they need, and what equipment they need to gather it, the next step will be to figure out who will be using the data and what the scope of the process will be.
"We look at facility connection at three different layers," explains Wade Leverett, chief executive officer at Repete Corp. "At the device layer, devices are becoming smarter and moving from input/output to ethernet. At the control system layer, control systems are collecting an enormous amount of data which can be used to fuel a large set of needs. At the enterprise layer, the ability to have order takers, inventory managers, operations managers and executives be intimately aware of mill operations is now becoming very important."
The facility should then think about how the data a device creates should be stored and what will be possible with internet access in their area.
"Data can be stored on-premise, at the enterprise level, in the cloud, or a combination," explains Ensch. "Systems can be backed up on regular time intervals or mirrored with both hardware and software redundancies. There is no to reason ever lose data."
Once all the above questions are answered, the equipment is installed and a facility begins collecting data. The next step becomes how to gather and comprehend it.
Find the complete article in the June/July 2019 issue of Feed & Grain.