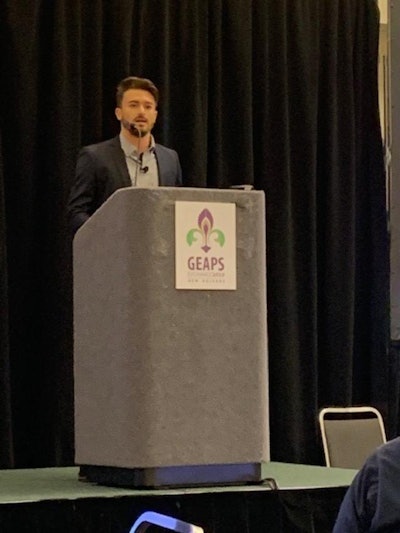 At the GEAPS Exchange Monday afternoon educational session, "Maintaining Grain Quality in Metallic Silos," Francesco Selva, technical manager, with AG Growth International (AGI), said aeration is one of the most common and safest techniques used to preserve stored grains quality without chemicals.
Aeration is environmentally friendly and cost-effective, and it can significantly prevent kernel deterioration and grain losses due to insect and mold infestations. Without the necessary design knowledge and understanding, this technology cannot be implemented at its full capacity.
"Aeration is environmentally friendly and cost-effective solution," said Selva.
Climate change is affecting a productivity all around the world. "There might be a correlation between allergic reactions and storage conditions," he said. "There's a definite lack of knowledge on grain quality management."
Selva said one-third of food produced each year is lost or wasted each year. Of that 1-5% is lost during storage in temperate climates and 10% of grain loss during storage in warm climates.
Grain losses due to insects and mold presence is both quantitative and qualitative. "The insects' life is influenced by temperature and molds activity is influenced by moisture content," says Selva.
Aeration -- the practice of moving air through stored grain to control the eco system -- greatly improves the stability of the grain by maintaining a cool, uniform temperature throughout the storage process to reduce mold development and insect activity.
"Ventilation is needed to maintain grain, prevent spoilage, maintain grain condition, control moisture and limit insect activity," said Selva.
Some factors influencing aeration system design include:
Flooring technologies, including flat bottom silos (partially perforated floors, fully perforated floors) and hopper bottom silos (rocket system and aeration pipes).
Transition ducts connects fan to aeration system
Roof vents/exhauster – screened to prevent bird entrance; should be equally spaced around eave
Resistance to airflow through the grain is the most significant design factor. Several things affect grain bulk depth: grain type, moisture content, airflow rate and filling method influence the resistance to air flow
"The hygroscopic nature of grains allows them to take up/release moisture from/to the atmosphere in which they are placed," says Selva. "Aeration is needed to avoid temp gradients, control grain temperature and control rain moisture migration."
The future
Selva sees two trends coming down the road for grain storage.
Large scale use of grain chillers – getting more and more popular especially in warmer regions
Fully sealed bins - high cost because a glue or paint has to be applied to make it fully sealed