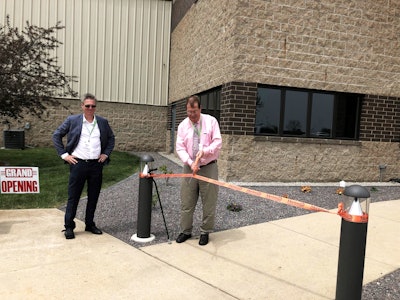 4B Components Ltd. held the grand opening of its state-of-the-art elevator bucket injection molding facility on May 16 in Morton, IL.
More than 150 customers, vendors, community leaders and employee's toured the facility featuring new injection molding machines and tooling.
"The new facility enables a more efficient manufacturing process, increased capacity, and improved responsiveness to the demands of the agricultural and industrial markets," says Johnny Wheat, president of 4B Components.
With over 250,000 buckets and 6,000,000 bolts produced in the new Morton facility, the company holds one of the largest inventories of elevator buckets and bolts in the world.
The new injection molding plant is located in a 45,000-square-foot facility that produces 5,000 buckets/day and is located on the same site as the sales, technical, and engineering departments in order to better meet customer demands.
"Opening this new facility will bring better production control, improved logistics and more flexibility," says Nicholas Braime, CEO 4B/Braime Group. "Most importantly, the facility shows our strong dedication to truly be better by design."