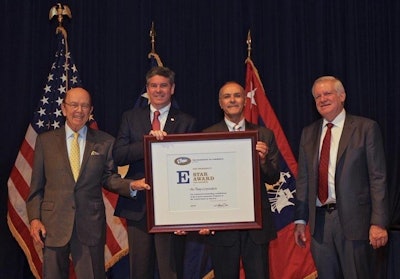 On Thursday, May 23, U.S. Secretary of Commerce Wilbur Ross presented Ace Pump Corp., Memphis, TN with the President's "E" Star Award for Exports at a ceremony in Washington, D.C.
In total, Secretary Ross honored 48 companies with the President's "E" Award, the highest recognition any U.S. entity can receive for making a significant contribution to the expansion of U.S. exports.
"Ace Pump has demonstrated a sustained commitment to export expansion," says Secretary Ross. "The 'E' Awards Committee was very impressed with Ace Pump's strategic pursuit of markets in the southern hemisphere to offset seasonal challenges in its northern hemisphere home market, ensuring year-round sales and greater employment opportunities in the United States. The company's growth in number of foreign markets served since receiving the President's 'E' Award for Exports in 2015 was also particularly notable.
Ace Pump Corporation's achievements have undoubtedly contributed to national export expansion efforts that support the U.S. economy and create American jobs."
Upon receiving the award, Andy Randle, Ace Pump chief executive officer, gave full credit to the employees.
"In accepting this award, I would like to give credit to all of our employees and especially Paul Gannom, our export manager," he says. "We also appreciate the hard work of our international distributors, the U.S. Department of Commerce and the Export-Import Bank for their combined efforts in making our products available to the world market. Our growth in international sales can be attributed to our highly engineered, world-class products and the development of personal relationships that have brought the unique culture of Ace Pump Corporation to customers throughout the world."
According to Randle, the company's chief exports are centrifugal pumps for the application of herbicides, pesticides and liquid fertilizers in agriculture. Exports account for approximately 23% of Ace Pump's annual revenues. Ace Pump sells to more than 15 markets worldwide with Canada, South America and Europe being the company's main export destinations.
In 2018, U.S. exports were the highest on record with U.S. services at $821.1 billion and U.S. exports of goods reaching $1.7 trillion, demonstrating how American private enterprise can not only survive, but thrive, in the international market.
American companies are nominated for "E" Awards through the U.S. and Foreign Commercial Service office network, located within the U.S. Department of Commerce's International Trade Administration. Record years of successive export growth and an applicant's demonstration of an innovative international marketing plan that led to the increase in exports is a significant factor in selecting the overall winners.
For more information about the "E" Awards and the benefits of exporting, visit export.gov.