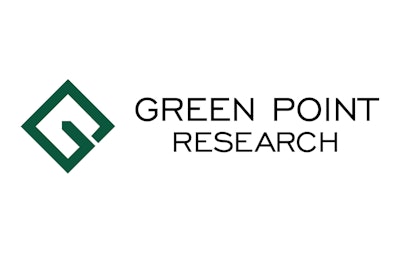 A former executive from agriculture giant Cargill has joined the ranks of a Florida hemp processing company as it scales its operations to meet anticipated demand for bulk hemp extract.
International phytocannabinoid-rich biomass originator and processor, Green Point Research (GPR), announces that Matthew "Matt" Turner will be joining the executive leadership team as the newly appointed Chief Science Officer (CSO).
GPR's global positioning, vertical integration, and quality premium genetics have helped it earn its reputation as a leader in the growing hemp industry. Adding a uniquely qualified CSO with such a strong combination of deep technical knowledge and operational expertise is expected to aid the company in its ambitious future growth plans as it meets the current and future market demand from institutional purchasers for bulk cannabinoid products.
"Matthew joins us at a vital time as we focus on expanding sales of our premium quality seeds, clones, and genetics to meet the growing demand of farmers looking to enter the hemp industry," said David Hasenauer, CEO of Green Point Research. "With his deep understanding of optimizing extraction and refining operations, we have created an unparalleled process, which will allow us to become the largest low-cost cultivator and processor of hemp biomass."
As the Chief Science Officer for Green Point Research, Turner is responsible for overseeing the technology, design, construction, and operation of Green Point's extraction and refining operations. Turner brings a wealth of knowledge in extraction and refining operations, having previously constructed and managed extraction and refining plants as Cargill's Global Manufacturing Operations Manager. His twenty-five years of experience also includes executive leadership through roles as VP of Manufacturing and Engineering with Golden Peanut, COO of Justin's Nut Butter, and CEO of DeSmet Ballestra, one of the world's technical leaders in the edible oil extraction and refining business.
"Cannabidiol is the most misunderstood compound on earth. I look forward to advancing knowledge and education about the hard-working compound while working with Green Point Research to fully optimize our vertically-integrated operations," adds, Matthew Turner, newly appointed Chief Science Officer for Green Point Research.
An Army veteran, Turner served with the 101st Airborne, 5th Special Forces Group and instructed at United States Military Academy West Point. Turner holds a Bachelor of Science in Chemistry from Austin Peay State University and one in Chemical Engineering from the University of Tennessee, Knoxville. He went on to earn a Master of Science in Management at Murray State University and another in Chemical Engineering at the University of Tennessee, Knoxville.
A published writer, Turner, has contributed to several publications, including Modern Applications of Chemistry. He also co-authored Patent Application number 20030134018, titled "Process for Oil Extraction."
Turner is a married father of three and currently resides in Florida. He's also active in the community and supports a number of organizations, including St. Jude Children's Research Hospital.