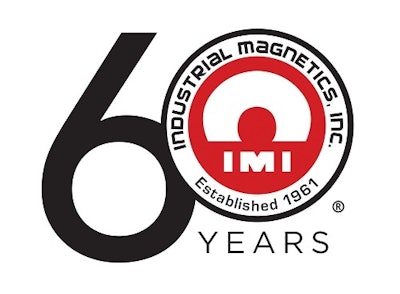 Industrial Magnetics, Inc. (IMI), announces its 60 year anniversary as a manufacturer and reseller of industrial magnetic products and assemblies for holding, lifting, fixturing, automation and metal separation.
The company attributes its 60-year-long success to their mission of providing customers with creative solutions and products for mutual success, in concert with the core values of providing the right product at the right time for the application and excellent service during all phases of the project.
In the past decade, IMI has executed several acquisitions as a path to ensure the continued stability of the company and its employees, and to provide for its customers and channel partners. It completed acquisitions of Prater Industries (Bolingbrook, IL), Sterling Systems & Controls (Sterling, IL), Javelin Manufacturing (Ft. Wayne, IN), Clamp Mfg Co, Inc. (South El Monte, CA) and most recently Walker Magnetics (Windsor, CT/Columbus, OH).
"We have always stayed true to course in seeking synergistic acquisitions which add value for our customer and to our core business," says Dennis O'Leary, chief business development officer. "We're always open to possibilities, as long as they make sense in the markets we serve and/or within the framework in which we bring product to market. It doesn't have to be magnets, but it has to be meaningful for us."
Acquisitions have spurred expansion as well, with an 18,000-square-foot manufacturing addition in 2015 and another soon-to-be-completed 35,000-square-foot addition this spring to accommodate growth.
"Investment in add-ons, capital equipment and brick and mortar is important, but the most critical investment we continue to make is in human capital," says O'Leary. "Our team is the engine of IMI and we've now surpassed one hundred employees with an expectation to add another twenty employees before the end of this year. Our finest asset is our staff, across the entire team, and the products we provide are really a by-product of our passion. We want to exceed expectations and continue to set a high bar for what our customers and channel partners have come to expect from IMI."
About Industrial Magnetics
Since 1961, Industrial Magnetics, Inc., has been an industry leader providing best-in-class customer service, on-time delivery, and innovative permanent and electromagnetic solutions to meet the exact needs of any application.