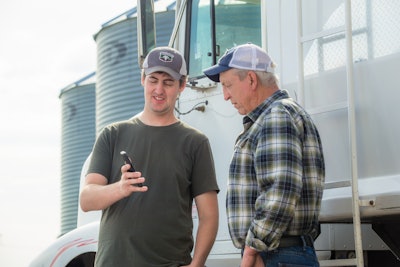 Bushel announces an integration with EFC Systems' FieldAlytics agronomy and farm planning software.
This integration will allow growers to easily access FieldAlytics through their grain facilities' mobile app powered by the Bushel platform. Full integration to EFC's Merchant Ag is slated for 2022.
"Giving our growers the ability to access their FieldAlytics plans through our Bushel-powered mobile app is a convenient, easy way to keep us both on the same page," says Ryan Meister, vice president of Digital Transformation at Frontier Cooperative.

"As an ag retailer, this gives us the ability to reach more growers and provide more value within the limited time we have."
The FieldAlytics app provides spatial, detailed financial models based on scouting, sampling, planning and fertility activities. The integration into the Bushel platform provides a more centralized, digital experience between growers and ag retailers.
Because farm plans are a living document, the latest version can be accessed by any customer using Bushel Mobile as their grower-facing mobile app. FieldAlytics allows ag retailers to more efficiently manage fleet dispatching and product placement while more accurately forecasting inventory needs.
"This is a great opportunity for ag retailers that use both the FieldAlytics and Bushel platforms to have a better digital experience for their growers," said Ernie Chappell, President and founder, EFC Systems. "The data insights provided by FieldAlytics provide better data-driven decisions that transitions the conversation from price to value."
Current grain data-sharing processes are manual and fragmented, resulting in lost productivity and revenue potential. Bushel's technologies aim to solve some of the industry's biggest challenges and bring the grain supply chain together through connected, standardized and properly-permissioned data.
"Technology collaborations are critical to build a digital infrastructure that makes sense from all points of the supply chain," says Jake Joraanstad, CEO and co-founder of Bushel. "By providing critical information seamlessly, ag retailers can help guide their growers to more profitability and more time savings."
Click below to learn more