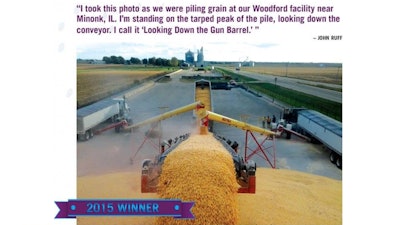 Feed & Grain is proud to announce the winners of its 2014 Harvest Photo Contest. Entries poured in from December 2014 until this February showcasing our readers' ability to manage a record crop — some with limited access to rail or other shipping options. Congratulations to all the winners and honorable mentions!
Winner: John Ruff, Ruff Bros. Grain, Toluca, IL
Storage Strategy: Ruff Bros. Grain unloaded grain to ground piles using portable augers at its Woodford facility and also its Ruff Rail facility near Toluca, IL.
First Runner-up: Denise Gorrell, Dakota Plains Ag Center, LLC, Parkston, SD
Storage Strategy: Dakota Plains' Parkston facility utilized its 4-million-bushel storage capacity, 1.5-million-bushel LeMar bunker, and 3 million bushels in temporary ground piles. Before piling grain, they graded the ground so it sloped away from the center and layered it with C-stone to help absorb ground moisture. They also used aeration tubes, fans and tarps whenever possible to help maintain the quality of the grain.
Honorable Mentions
Brad Glarum, Minn-Kota Ag Products, Breckenridge, MN
This photo, taken in 2012, is what a million bushels of corn looks like on the ground. Impeccable timing allowed Minn-Kota to sell the corn at its Barney, ND, elevator virtually undamaged. "We cleaned and packed the earth with a roller before we started dumping corn, so we had very little spoilage and then got the corn cleaned up two days before we received 4 inches of snow," Glarum said.
Matt Kitten, Westway Feed Products, Sulphur Springs, TX
DDG is one of the ingredients in Westway Feed Products' molasses tubs. Supply can be erratic, so Westway purchases DDG from up to eight different locations in Kansas, Nebraska, Missouri, Oklahoma and other states. Its storage bin only held two truckloads' worth of DDG, so it recently added flat storage to help keep a steady supply of the ingredient for molasses tub production. This picture's "Grand Canyon" look is the result of storing DDG from various suppliers in flat storage.
Jeff Mericle, Gold-Eagle Cooperative, Goldfield, IA
Steam billowed from a dryer tower one cool fall morning last year at Gold-Eagle Cooperative's Renwick, IA, location. Mericle said the wet harvest accounted for many long nights of drying at the co-op. Its new Sukup dryer and four 750,000-bushel bins make up this state-of-the-art facility in Renwick, which boasts a total of 3 million bushels of corn storage capacity.