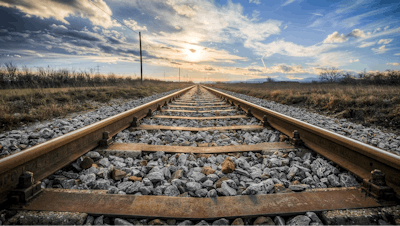 Martin Winkler | Pixabay.com
The Federal Railroad Administration (FRA) of the U.S. Department of Transportation (USDOT) is investing more than $1.4 billion from President Biden's Bipartisan Infrastructure Law into 70 rail improvement projects in 35 states and Washington, D.C.
The FRA said this is the largest amount ever awarded for rail safety and rail supply chain upgrades through the Consolidated Rail Infrastructure and Safety Improvements (CRISI) program.
As part of President Biden's Investing in America agenda, federal investments are tackling long-standing rail needs by supporting communities nationwide to help get people and goods where they need to be safely, quickly and conveniently, said USDOT Secretary Pete Buttigieg. Projects selected through the CRISI program support community safety through track improvements, bridge rehabilitations, fewer highway-rail grade crossings, upgrades on routes carrying hazardous materials and more. Selected projects also improve connectivity, reduce shipping costs, increase resiliency to extreme weather, reduce emissions, and support workforce development.
"These projects will make American rail safer, more reliable, and more resilient, delivering tangible benefits to dozens of communities where railroads are located, and strengthening supply chains for the entire country," said Buttigieg.
Projects will benefit every region of the country, with nearly two-thirds of CRISI funding flowing to rural communities.
In eastern Washington State, more than $72.8 million will make several track-related improvements, upgrade grade crossings, and enhance infrastructure on the Palouse River & Coulee City Railroad (PCC) through the Rural Rail Rehabilitation Phase II Project. The project is part of a multi-phase effort to improve the PCC, which is vital to the wheat supply chain. Investments will allow the line to carry modern 286,000-pound railcars, increase speeds, and protect against the effects of severe storms and washouts.
In Nebraska, more than $15.2 million will modernize the Cornhusker Railroad, improving track, grade crossings, and a railcar repair facility through the Cornhusker Railroad Regional Connectivity Project. Investments will result in safer and more efficient operations, including improved interchanging of regional trains with Class I railroads.
In Ohio, more than $16.2 million in federal investments will rehabilitate bridges and make several track-related improvements along approximately 180 miles of the Kanawha River Railroad (KNWA) through the North Central Appalachia Rail Enhancement and Rail Corridor Preservation Project. The project will allow for increased speeds while improving safety, reliability, and capacity on a rail line that moves needed goods in rural areas of West Virginia and Ohio.
For the full list of Fiscal Year 2022 CRISI project selections, please click here. Further information about the many benefits of FRA's CRISI Program is also available here.