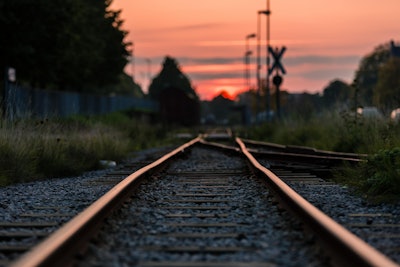 The National Grain and Feed Association (NGFA) testified before the Surface Transportation Board (STB) on April 26, listing several examples of rail service failures experienced by grain shippers across the country and outlining recommended actions for the STB.

"NGFA's preference is to seek commercial solutions between individual rail customers and their rail carriers," said NGFA President and CEO Mike Seyfert during his oral testimony at STB headquarters. "However, the recent rail service challenges impacting entire regions of the country have led us to the board to seek help."

STB Chairman Martin Oberman called for the "Urgent Issues in Freight Rail Service" hearing and directed several Class I carriers to testify on April 26-27.
NGFA urged the board to address inadequate rail service in a March 24 letter to Chairman Oberman and led another letter signed by members of the Agricultural Transportation Working Group on April 21 outlining several proposals to improve rail service.

In Monday's testimony, Seyfert listed several instances of rail service failures and their consequences, including excessive dwell time at origin and delayed train delivery at grain export destinations.

"Many NGFA members have a daily risk of slowing or shutting down operations due to reduced and inconsistent rail service," he said.
"Some individual NGFA member companies report losses and increased costs in the tens of millions of dollars and lost or reduced operating days totaling weeks."

Grain industry sees lost revenue, additional freight expenses

NGFA estimates the combined costs to the grain industry due to lost revenues and additional freight expenses in the first quarter of 2022 to be over $100 million.
"Depending on the market position of the grain industry participant, these extra transportation costs are either borne by the participant, reflected in the grain basis paid to the farmer, or passed onto the consumer," Seyfert noted.

One of NGFA's recommendations for STB is to implement financial incentives for railroads to perform more efficiently using the same concepts they use to incentivize their customers.
While NGFA member companies understand the pandemic caused labor shortages for employers in many industries, the Class I railroads' inadequate crews are having an undue impact on grain shippers and receivers, NGFA noted.
"When NGFA members cannot load a train because a crew is out with COVID, they will be charged demurrage by the rail line and if they cannot unload a train due to COVID, they will pay demurrage and face the risk of penalties or loss of contracts with their own customer," Seyfert said.
"However, if the railroad cannot deliver or move a train due to COVID – or any other reason – NGFA members cannot charge and are not entitled to any demurrage from the railroad."

NGFA applauded the STB's recent decision to accept public comments on a petition that asks the board to adopt rules allowing rail customers to levy financial penalties on railroads for their inefficient use of private railcars, which make up many of the cars that haul agricultural commodities.
STB proposes revised emergency service rules
Last week, in light of recent rail issues, STB issued a Notice of Proposed Rulemaking (NPRM) to amend its emergency service rules to provide relief for shippers in situations that require immediate relief. The board proposed, among other things, to clarify that it may act on its own initiative to direct emergency rail service, and to establish an accelerated process for acute service emergencies.
"The rail service challenges shippers are currently experiencing are amplified by certain recent conditions but are not new," said Oberman.
"For several years the board has gathered information showing that the existing emergency service rules are too cumbersome to be of use to shippers in need of immediate relief."
This proposed rule would make it possible for a shipper to receive relief in a short but reasonable amount of time during an emergency.
"Given the persistent and serious problems presently affecting freight rail service, it is important for the board to consider new approaches for providing much needed relief to rail customers, not only for the customers' benefit, but for the well-being of the nation's economy and all consumers," he said.
Suggestions to STB for improvements

NGFA says the board should also explore other ways to use these principles to incentivize the Class I railroads to provide more reliable service for carrier-provided railcars.

In addition to demurrage solutions for rail customers, NGFA recommended several potential actions to the STB, including:

Finalizing a rulemaking on reciprocal switching rules, which would allow shippers served by a single railroad to request bids from a nearby competing railroad.

Requiring additional data reporting, such as first-mile, last-mile rail service reporting.

Developing guidance on expectations for rail carriers in meeting their statutory obligation to provide service upon reasonable request.

Requiring all the Class I railroads to develop annual rail service assurance plans.

"NGFA was founded on five key principles, one of which was improved and reliable rail service," Seyfert said, noting that NGFA celebrated its 125th anniversary in November 2021.
"The rail and grain and feed industries have changed considerably over the last 125 years, but the importance of the relationship has not. I expect this partnership to remain in place another 125 years from now. Therefore, solutions to the current rail service challenges should be crafted with the long term in mind."

NGFA also thanked the board for its recent announcement to begin a rulemaking on emergency service orders and encouraged the board to follow up with other announcements to help improve rail service. View the full testimony here.