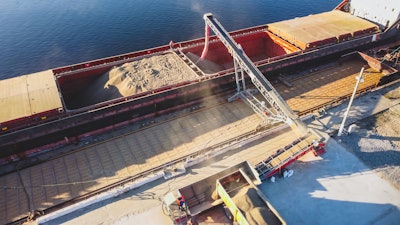 Two more ships, carrying corn and soybeans, departed from Ukrainian Black Sea ports on Monday, Turkey and Ukraine said, taking the total to 10 since the first ship sailed last week under a deal with Russia to unblock Ukrainian grain exports, Reuters reports.

So far, around 243,000 tonnes of corn has been exported from Ukraine on seven ships since August 1, according to a Reuters tally of data from Turkey's defence ministry.
In peacetime, Ukraine can export up to six million tonnes of grain a month.
The resumption of grain exports is being overseen by a Joint Coordination Centre (JCC) in Istanbul where Russian, Ukrainian, Turkish and U.N. personnel are working.
Ukraine's infrastructure minister, Oleksandr Kubrakov, confirmed the two latest ships left on Monday, adding Pivdennyi, the third Ukrainian port included in the deal, was finally up and running as part of the initiative.
Could take months to clear the backlog
Last week, Ukrainian presidential officials noted 17 ships were docked in Black Sea ports with almost 600,000 tonnes of cargo, mostly grain.
The flow of corn, wheat and barley will still be lower than before the war. It will take months to clear the backlog of grain, and this season's harvests are expected to be depleted by the war.
The U.S. Department of Agriculture predicts Ukraine will export 30.6 million metric tons of grains and seeds over the 2022-23 season, almost half the tonnage of the season before.