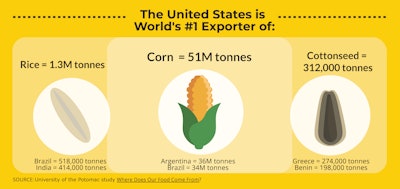 The U.S. is the world's leading ag commodities exporter, topping the list for corn, seed cotton and rice. In fact, the U.S. ranked top three for 10 out of 21 of the most common agricultural commodities in the world, with combined production of these commodities totaling nearly 668M tonnes in 2020.
Nations worldwide depend on each other for agricultural commodities and products to feed their population. Ag commodities make up a large portion of international trade, accounting for as much as 4.3% of the global GDP, according to the World Bank.
But world events like climate change, the COVID-19 pandemic and the Ukraine-Russia War have contributed to concerns about food production and supply chains, both domestically and afar.
Despite the uncertain times, staple foods like corn, sugar, soybeans, and rice were produced and exported all over the world throughout 2020, according to the University of the Potomac study Where Does Our Food Come From?
United States leads in corn production and exports
Though it originated in Central America and Mexico, today, corn is a dietary staple for humans and animals across the world. In 2020, 1.1 billion tons of corn was produced globally.
United States tops the list in production volume, accounting for more than 360 million tons.
China came in at No. 2, producing 260.8 million tons.
Brazil rounded out the top three with 103.9 million tons of corn production.
The top three producers provided about two-thirds of the world's corn in 2020, while a long list of other nations provided the remainder. Thanks to its ease of cultivation, harvesting, storing and transportation, corn has grown on every continent except Antarctica, and more than 165 countries produced corn in 2020 — 16 of them listed it as their highest cultivated agricultural commodity, according to the FAO.
United States led in corn exports in 2020, exporting 51.8 million tons with a market value totaling $36.7B.
Argentina ranked second with 36.8 million tons.
Brazil came in third with 34.4 million tons.
U.S. agricultural exports beyond corn
The U.S. has long been the world's largest agricultural commodities exporter, and 2020 was no different, exporting a total market value of $147.9B. Thanks not only to advances in technology, but also to the United States' 0.811 democracy index, trade with the U.S. is less risky for other countries.
In 2020, corn was the highest exported commodity by volume, but soybeans were the highest valued U.S. commodity, reaching an export value of $25.8B. A large assortment of other ag products are exported out of the U.S., including wheat, fruits, vegetables and nuts, for example.