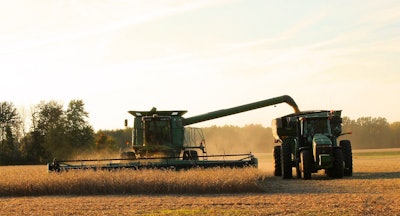 CJ | Pixabay.com
The USDA announced it is providing $2.3 billion to help American producers maintain and develop markets for their commodities and use U.S. commodities to bolster international food aid.
Consistent with a bipartisan request from the Senate Committee on Agriculture, Nutrition, and Forestry, USDA is utilizing funds from the Commodity Credit Corporation (CCC) to address challenges related to trade and food insecurity impacting U.S. farmers and the international community. USDA will use:
$1.3 billion for the Regional Agricultural Promotion Program and support for specialty crop industries to diversify export markets
$1 billion to help address global hunger
"The Commodity Credit Corporation continues to address the needs of American producers as significant and unpredictable challenges arise, including impacts to international commodities markets and global food insecurity in the wake of ongoing conflict and a changing climate," said Agriculture Secretary Tom Vilsack. "The Commodity Credit Corporation and USDA's market development and aid programs are critically important at this time, and with this additional support we can strengthen U.S agriculture's presence in existing markets, open up new market opportunities, and build on our relationships and connections to ensure that high-quality American agriculture and food products reach where they are needed in the world."
Secretary Vilsack made today's announcement as part of the World Food Prize's Borlaug Dialogue that is held in Des Moines, Iowa each October and brings together world leaders and experts to address global food security issues.
Regional Agricultural Promotion Program (RAPP)
The FY23 agricultural trade deficit is $19 billion, and USDA has projected that it will grow to $27.5 billion in FY24. There is also increased competition in the U.S. export markets in Asia and Africa. Therefore, USDA noted, additional investments in market development need to be made to keep ahead of the competition. Analysis has shown that for every $1 invested in export market development, exports are increased by $24.50. Increased agricultural exports means income directly back to producers.
Trade promotion investment helps keep existing markets open and creates access to new markets. Further, investing in non-traditional markets will help the United States diversify away from dependence on a handful of large markets.
The new $1.3 billion investment in a Regional Agricultural Promotion Program, or RAPP, will enable exporters to break into new markets and increase market share in growth markets. Further, USDA said, an investment in providing targeted technical assistance to the specialty crops industry will help it enter and expand markets that often impose onerous non-tariff barriers on their products.
Five years ago, in reaction to the trade war with China, USDA developed the Agricultural Trade Promotion Program (ATP) to help exporters diversify their markets. The funds from ATP will expire next year and with that, many exporters are already curtailing their activities. Without being on the ground in markets, it is nearly impossible to build the trust and relationships needed to create opportunities. RAPP will address this critical loss and ensure continuity of the relationships key to market development.
U.S. ag groups react
Like the ATP funds that were first distributed in 2019, RAPP funding will supplement the Market Access Program (MAP) and Foreign Market Development (FMD) funds the U.S. Grains Council (USGC) relies on annually to help its members expand markets for grains in all forms and its international partners to serve their local consumers.
"The success of the council would not be possible without its partners in both the public and private sector, and we look forward to expanding exports of corn, sorghum, barley and their coproducts," said USGC president and CEO Ryan LeGrand. "With this new source of funding, however, there is still a need to increase long-term funding of the MAP and FMD programs in a new farm bill."
American Soybean Association (ASA) president Daryl Cates said he and others in the soy industry are happy to see USDA acknowledging the uncertainty that surrounds agriculture and challenges that arise from that unpredictability, and that the department has conveyed through its funding infusion the importance of market development programs.
"America's soybean farmers rely on strong existing export markets and opportunities to open and build new markets," said Cates. "It can take decades to grow markets for our beans and only a matter of days in some cases to lose them, so having the funds to sufficiently support export promotion programs is something ASA and soy growers have consistently championed. And, as both an industry that participates in food aid programs and as human beings, we are pleased to see the administration looking for additional ways to help us address global food insecurity."
U.S. Wheat Associates (USW) and the National Association of Wheat Growers (NAWG) are also encouraged by the new USDA funding.
All across its supply chain, U.S. wheat depends on the successful public-private partnership between USW's state wheat commission members and USDA FAS export market development programs, said the groups in a joint statement. Checkoff contributions qualify USW to apply for matching funds through programs like the Market Access Program (MAP) and the Foreign Market Development (FMD) program.
Under U.S. farm legislation, Congress apportions funding for MAP, FMD and other export programs. Annual funding for MAP has not changed from $200 million since 2006 and annual FMD funding of $34.5 million has not changed since 2002, yet other countries have significantly ramped up their export promotion spending, the groups noted.
"Study after study has shown that these programs consistently meet their purpose to boost agricultural export volume and revenue while supporting the entire U.S. economy, and the benefits grow with additional funding," said USW chairman and Oklahoma wheat farmer Michael Peters.
"We appreciate the introduction of the new Regional Agricultural Promotion Program (RAPP), and the USW team will work very hard to use it effectively," Peters continued. "Looking ahead, global wheat trade is increasingly competitive and market development takes time and consistency. That's why we believe that in the long-term, increases for established Farm Bill export development programs are the best way forward."