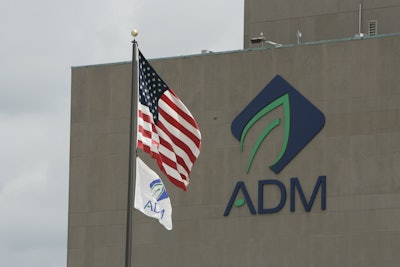 Archer Daniels Midland Co on Thursday reported a 41.3% drop in second-quarter adjusted profit and missed Wall Street expectations, after being battered by the U.S.-China trade war and severe U.S. weather this spring that caused it significant supply-chain woes.
According to Reuters, the company also pointed out future trouble: ripple effects from the outbreak of African swine fever, a fatal hog disease that has killed millions of pigs in China.
"We are seeing early signs of how African Swine Fever might impact global animal protein markets, and eventually support incremental soybean meal demand in key meat-producing regions outside of China," says Chairman and CEO Juan Luciano in the report. "And, of course, fast-growing consumer trends such as plant-based proteins are creating long-term growth opportunities."
Luciano also cited the trade war as impacting the company's performance this year.
"Although the timing is uncertain, we remain confident in the resumption of significant food and agricultural trade flows between the U.S. and China, which will help bolster margins in the U.S. grain export and ethanol industries," Luciano says.
During the quarter, ADM advanced its strategic initiatives to enhance agility, accelerate growth and strengthen customer service, and took aggressive actions on a variety of fronts. These actions, which will also help offset the significant weather impacts of the last six months, include:
Combining the company's Origination and Oilseeds business units into a single business, Ag Services & Oilseeds, which will report as a new segment beginning in the third quarter
Completing significant organizational changes announced last quarter, including early retirement offers for colleagues in the U.S. and Canad;
Centralizing and standardizing business activities, including appointing a senior vice president, Global Operations, to lead a new operations structure
Aggressively harvesting the benefits of recent acquisitions, including planned synergies
Results of Operations
Origination results were significantly lower than the very high results in the prior-year period, when the drought in Argentina and increased purchases of U.S. crops by China in anticipation of tariffs drove strong volumes and margins.
Oilseeds results decreased versus the second quarter of 2018, which saw record volumes and extremely high margins.
Carbohydrate Solutions results were lower than the year-ago period.
Nutrition results were higher year-over-year, driven largely by accretion from the Neovia acquisition.
To see the full report, click here.