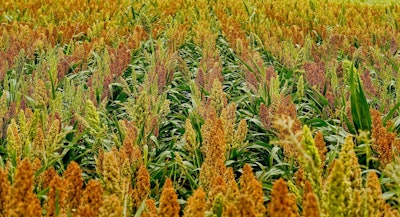 Sorghum's versatility leaves the door wide open for U.S. growers to provide global markets with high-caliber sorghum.
The U.S. Grains Council's (USGC's) 2021/2022 Sorghum Quality Report shows American farms, and their products are ready to meet increasing demand. U.S. sorghum's high protein concentration makes it ideal for livestock diets while advances in aquaculture have created an entirely new avenue of usage.
U.S. sorghum high in protein
Published in March, the report showed U.S. sorghum more than meets requirements for the U.S. No. 1 grading. Protein remains strong in U.S. sorghum, with this year's crop exceeding the previous years with an average of 11.3% protein.
"Protein content in sorghum is valuable when evaluating it against other feed grains," says Paige Stevenson, USGC manager of global trade.
"In a market environment where the need for protein is high, every percentage point counts in animal diets."
The report is based on 97 samples taken from 13 elevators in Texas, Kansas, Nebraska and South Dakota between September 20, 2021, and February 16, 2022.
The samples were analyzed by the Amarillo Grain Exchange and the Cereal Quality Lab at Texas A&M University and assessed for average quality factors with standard deviations.
Physical characteristics of this year's sorghum crop

Regarding the physical characteristics of this year's crop, the average weight came in at 59.1 pounds/bushel, an improvement of nearly one pound over the 2020/2021 averages. The kernel diameter (2.52 millimeters), 1,000-kernel weight (25.23 grams), and kernel hardness index (67.8) were all up from last year as well.
Starch and oil contents are also important indicators of sorghum quality, as they are essential energy providers and metabolizers for livestock.
The report found the dry basis starch percentage went up to 73.4%, 0.8% higher than in 2021 and 1.3% higher than in 2020. Oil levels were 4.7%, the exact figure as the past year's on record.
Total sorghum damage was at zero percent, and the percentage of broken kernels registered was at 1.5%, continuing a three-year trend of positive gains in that department.
The samples contained 0.7% of foreign material, slightly higher than last year but still well below the 1% maximum threshold for the U.S. No. 1 grade certification.
The report also revealed that none of the samples contained tannins for the second consecutive year. Tannins can limit the nutrient absorption of livestock, thus reducing the overall quality of sorghum. Its total absence from U.S. product again proves the capability of domestic sorghum in animal diets.
China largest importer of U.S. sorghum
This year's report comes as China has fully returned as the largest importer of U.S. sorghum.
USGC worked extensively in China from 2013 to 2015, raising Chinese sorghum import levels to consume 70% of U.S. production.
Trade complications in 2018 caused China to become almost entirely closed off from American farmers. Still, tariff exemptions enacted in March 2020 have allowed USGC to regrow the Chinese market slowly to where it is today.
USGC in the field
USGC staff also met with growers and other organizations along the supply chain earlier this year to get a closer look at U.S. sorghum from the fields to shipping boats and beyond.
They first visited grain elevators at the Port of Houston, the Port of Victoria and the Port of Brownsville to see how sorghum is moved to buyers worldwide.
Wayne Cleveland, executive director of the Texas Grain Sorghum Producers Association and Board, Khoa Nguyen of T&T Group, a Vietnamese feed grain importer, and Tom Sloan and Jake Lower of SGS, a testing and inspection company, joined USGC's staff on the tour.
"The Texas port system is a vital component needed by sorghum farmers to sell their grain to international buyers," Stevenson says.
"It was great to meet some of the people who help facilitate that process and showcase the system to a large buyer of U.S. grains from Vietnam."
The group also stopped at Planter's Co-Op and Corpus Christi Grain Co. to learn about the importance of Texas sorghum to the nation's overall output and how the recent crop was coming along.
USGC Sorghum Sector Director Jim Massey hosted the group at his farm and demonstrated his reduced tilling planting method, which raises the quality of his product.

Growing sorghum international trade
In addition to strengthening the bond between staff, growers and the products, these visits help USGC to open new markets for international trade.
A recent initiative in Kenya introduced the country's feed and livestock industry to the benefits of sorghum as a substitute for corn. East Africa's demand for corn consistently exceeds the available supply, raising prices all along the supply chain.
USGC shipped 60 metric tons (2,362 bushels) of sorghum to Kenya late last year to allow stakeholders in the region to use it instead of corn in poultry feed.
The results showed birds that had corn diets replaced with sorghum stayed within a healthy weight and production range, showing how U.S. sorghum is a cost-effective alternative for Kenyans across the board.
"Sorghum can act as a substitute, or partial substitute, to corn in animal feed rations," Stevenson says.
"If used in Kenya, it could help reduce the cost of finished feeds and the cost of poultry and eggs for consumers, creating a potential win-win situation for producers and consumers."
USGC's continued efforts to document the quality of U.S. sorghum and maintain relationships between growers and end-users strengthen the international agriculture market, providing opportunities for farmers and consumers alike.
The 2021/2022 Sorghum Quality Report, as well as previous reports dating back to 2015 are available online.
Global Sorghum Virtual Education
USGC's commitment to a scientific analysis of grains in all forms through annual studies like the 2021/2022 Sorghum Quality Report lays the foundation for its events and programs worldwide, all in the pursuit of developing markets, enabling trade and improving lives.
USGC held a pair of virtual rollout events to support the report's recent release. One was focused on buyers and end-users in China, Japan and Southeast Asia, while the other invited those from Mexico, Spain and Turkey.
The rollouts featured experts such as Norma Ritz Johnson, United Sorghum Checkoff Program executive director, Ross Janssen, chief meteorologist for KWCH in Kansas, and Florentino Lopez, an agricultural consultant with Creando Mañana.
Attendees were able to hear about U.S. sorghum planting intentions and get an early look at weather patterns that may affect the upcoming crop.
USGC also organized a panel discussion where growers could answer questions from prospective purchasers about this year's sorghum report.
"Getting up-to-date information is critical for sorghum buyers, especially when most have been unable to travel to the U.S. and see the sorghum crop first-hand," Stevenson says. "The buyers value the reliable and in-depth information this report provides them each year."