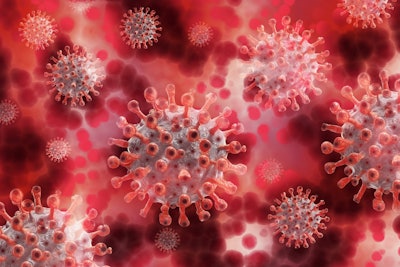 In the midst of the ongoing COVID-19 pandemic, the U.S. Grains Council kicked off its 60th Annual Board of Delegates Meeting virtually on Monday to help U.S. grain sector leaders assess the challenges affecting their industry and offer reassurance grain exports continue despite disruptions.
The meeting began on an encouraging note from USGC Chairman Darren Armstrong, a farmer from North Carolina, who reviewed the current marketing year's top five markets for U.S. corn -– Mexico, Japan, Colombia, South Korea and China, respectively –- and the top three markets for U.S. sorghum – China, Mexico and Japan.
"At this virtual meeting, we gather to discuss issues facing our industry and explore future demand," Armstrong said. "While the current domestic demand situation is challenging, the export outlook has bright spots to share, and I'm happy to report that corn, sorghum, barley, co-products and ethanol are still moving to our partners overseas."
Armstrong was followed by Dr. David Kohl, president of AgriVisions, an agriculture consulting business, and professor emeritus at Virginia Tech, who assessed the pandemic's effect on the commodities market and what attendees should expect to see as the situation evolves.
"There are a few things that should be on the grain industry's radar - the economic health of the protein sector and our trading partners, the weather, the value of the U.S. dollar and consumer trends," Kohl told attendees. "Our business model of the future relies on us to be resilient, agile, entrepreneurial and with a strong business IQ."
"We must find ways to manage the controllable elements and continue to manage around the uncontrollable elements during this time," he added.
StoneX Group Chief Commodities Economist Arlan Suderman later offered market insights on global macro-economic trends and their implications on the ethanol industry sorely affected during this time. He covered a review of global commodity markets, key indicators to watch and the state of the U.S.-China Phase One agreement.
"Price is a function of supply and demand as modified by the flow of money," said Suderman. "The money is chasing the assets that have the best opportunities to recover."
Monday's afternoon sessions are to include breakouts of the Council's six membership sectors. On Tuesday, the Council will hold its Board of Delegates meeting to conduct Council business, hold elections for various open leadership positions and hear from Council President and CEO Ryan LeGrand as well as outgoing and incoming chairmen, Armstrong and Illinois farmer, Jim Raben, respectively.
Taking advantage of the virtual meeting platform, staff members from the Council's overseas offices will be available Tuesday afternoon for questions and answers in an informal session called "Connecting With Your Global Staff."
The meeting will wrap up on Wednesday with virtual Advisory Team meetings in the morning and a closing general session in the afternoon. Ambassador Craig Allen, president of the U.S – China Business Council, will speak on the state of the U.S.-China trade relationship, and former Assistant U.S. Trade Representative Sharon Bomer Lauritsen will share an update on agricultural trade policy opportunities and challenges.
"Throughout this extraordinary time, U.S. farmers have never stopped working and neither has the U.S. Grains Council," Armstrong said to members in his opening remarks.
"Because of our presence in markets around the world, we anticipated the challenges and we've been able to shift our operations to ensure U.S. grain farmers and agribusinesses can continue to provide what our customers need. As we look forward and continue to adjust to emerging circumstances, we appreciate the deep engagement of our farmer and agribusiness members."
More from the meeting is available using hashtag, #grains20.