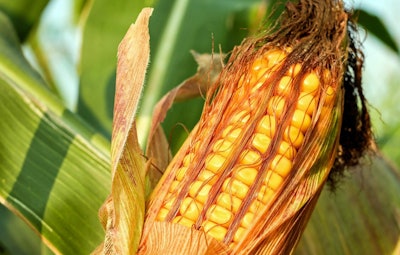 Chicago corn futures rose for a second session on Monday to their highest in two months after a U.S. crop tour forecast lower production, raising concerns over global supplies.
According to reports, wheat gained more ground, while soybeans eased.
Pro Farmer projected a U.S. corn harvest of 13.759 billion bushels, which would be the smallest since 2019. It also predicted a soybean crop of 4.535 billion bushels.
USDA released its August Crop Production report on August 12 and the survey-based report has farmers indicating corn yields will reach 175.4 bushels/acre and soybean yields at a record 51.9 bushels/acre in 2022.

Drought impacts U.S., EU yields
Farmers and ranchers across the Western half of the country continue to battle severe drought conditions says the American Farm Bureau Federation's 2022 Assessing Western Drought Conditions survey.
Nearly three out of four respondents rated a reduction in harvest yields as prevalent or higher.
Across the surveyed region, respondents expected average crop yields to be down 38% this year because of drought conditions.

AFBF President Zippy Duvall said the effects of this drought will be felt for years to come.
Drought is also taking a toll in Europe, China and India, while the outlook for exports out of Ukraine is hard to predict amid Russia's invasion.
"'Even before this week's news from the crop tour, I have been concerned that we would not see much stock rebuilding until 2023,' Joe Glauber, a former chief economist at the USDA who now serves as a senior fellow at the International Food Policy Research Institute in Washington, told Bloomberg. "The opening of Ukraine ports is a welcome sign, but volumes remain far below normal levels."
After the recent crop tour, officials now estimate that U.S. production will be 4% lower than the formal government forecast. The pinch follows drought-driven shortfalls of US winter wheat as well as soybeans in Brazil, the top grower.
Despite war, Ukraine wheat harvest almost complete
Ukraine's 2022 wheat harvest is 98% complete at 18.8 million tonnes in spite of the war in the country's east and south, data from Ukraine's agriculture ministry showed.
Ukraine harvested a record 86 million tonnes of grain in 2021 including 42.1 million tonnes of corn and 32.2 million tonnes of wheat.
According to Reuters, the Ukrainian government has said that Ukraine could harvest at least 50 million tonnes of grain this year, compared with a record 86 million tonnes in 2021, because of the loss of land to Russian forces and lower grain yields.
Ukraine's grain exports have slumped since the start of the war with Russia.
The agriculture ministry said on Monday, August 29, that the country's grain exports are down 52.6% year-on-year at 3.6 million tonnes in the 2022/23 season so far,