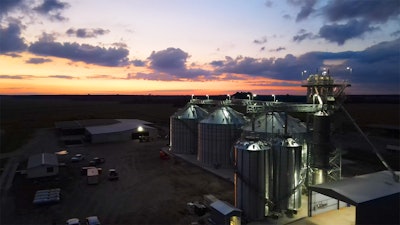 Promised Land has opened what it's calling the most advanced grain bin system on the East Coast.
The new grain handling facility build is located on McCotter PLOZ Farm in Pamlico County, North Carolina, and has the capacity to store over 350,000 bushels of grain.
The current tenant of the McCotter PLOZ Farm, Owen Peele of Split P Farms, is excited about the future economic impact the new grain facility will have on the local area.
"For the East Coast, this is the most advanced system there is, no one has what we have," says Peele. "In the long-term, that grain elevator is going to change the agricultural economics of Pamlico County. I can tell you there are people who are just as excited about this as we are."
More than just grain storage

Not only will the new grain facility help Split P Farms achieve a better value for its corn, soybeans and wheat, it will also increase the county's tax base and bring patronage to local businesses.
"The property taxes on the new grain facility will add to the tax base of Pamlico County, but it's going to do more than that," says Peele.
"Just the jobs alone that have been created by the construction of this facility, and the guys that built this place have lived here; they have been here almost eight months."
"What we will have following construction, when you start talking a million bushels of corn, you're talking 1,000 truck loads," continues Peele. "So, truckers coming in, truckers going out, truckers stopping to buy fuel and food. It will add to the economy of Pamlico County."
Social-minded collaboration

Farmland Partners Inc. serves as Promised Land's property manager for the farm, which has created a unique opportunity for collaboration. The two organizations' partnership has allowed them to create a scalable opportunity zone platform for socially minded investment in an underrated, inflation-protected asset class.
"We're proud to work with our partners at Promised Land and Split P Farms to invest in agriculture's future," says Paul Pittman, CEO of Farmland Partners.
"The McCotter PLOZ Farm in North Carolina is a perfect example of farmer-focused opportunity zone investments in action. The improvements made to this farm will boost the tenant's productivity, add value to the property, and benefit the surrounding community."
Grain elevator will continue to drive economic development

John Heneghan, manager of Promised Land, also believes this investment will continue to drive economic development for Pamlico County.
The grain bin system was designed to allow for future expansion to meet the potential growth in demand of the agricultural sector in Eastern North Carolina.
"The acquisition and improvement of McCotter PLOZ Farm is a landmark transaction for Promised Land and Pamlico County," Heneghan states.
"It powerfully demonstrates Promised Land's unique value-proposition of providing farmer partners access to capital to grow acres under management and to fund infrastructure improvements in rural communities that need a helping hand."

Promised Land was created to acquire, improve and stimulate economic development associated with farmland located in qualified opportunity zones in the U.S. ("QOZs").
QOZs are communities designated by the IRS as "economically distressed," in which improved farmland investments may be eligible for tax-exempt appreciation.
New capital investment, such as this new grain system, is expected to spur economic activity, community revitalization and job creation.