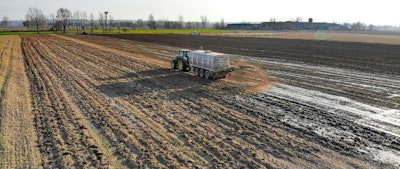 Fertilizer prices are falling as producers balking at the high costs of nutrients hold off on purchases, driving down demand and causing gluts that are upending the market for crop inputs, reports Bloomberg.
Earlier in the year, fertilizer prices soared after sanctions were placed against Belarus and Russia's war in Ukraine. Russia produces 11% of the world's fertilizer.
Sanctions promoted global fertilizer firms to increase purchases and transport massive amounts of product to avoid supply chain issues and trade restrictions in export markets such as Russia.
Farmers may be waiting for spring
In some key agricultural regions, like the U.S. and Brazil, farmers just aren't buying the fertilizer, choosing instead to see how low prices might go.
Global nitrogen prices are still trading at nearly five times historical averages, according to Bloomberg Intelligence.
The start of the fall fertilizer application season in the U.S. hasn't been that great, Josh Linville, director of fertilizer at StoneX told Bloomberg.
The market could see a lot of growers looking to buy nitrogen in the spring and the market could struggle to meet that demand.