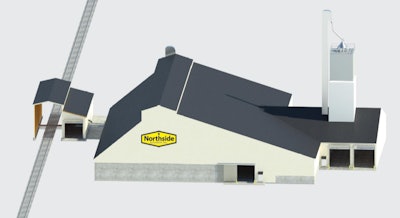 Northside Elevator, Loyal, WI, has started construction of a $20 million fertilizer plant in Stanley, WI.
Construction of the facility is expected to be completed by March 2023.
Key features of the new site will include:
A rail spur for more efficient procurement of production materials
Ability to store 14,000 tons of fertilizer
40,000-square-foot warehouse will create greater flexibility in purchasing and storage of fertilizer, seed and serve as an internal distribution hub
1,500-square-foot office space will be staffed to support one-on-one personal
According to reports, the company purchased 74 acres in Stanley. Most of the land was in the city's industrial park, but Northside also purchased property from a farmer that gave them access to the CN rail line.
Investment folds into comprehensive approach to agronomy products
The investment will further showcase Northside's comprehensive approach to agronomy products and services — a key component of Northside's 360º Consulting program.
This new location coupled with existing facilities in Loyal, will provide greater efficiency in distribution of products with reduced travel time for application equipment.
The location along State Highway 29 will enhance transportation options and allow for more efficient support of customers in the Chippewa Valley area and other regions throughout western Wisconsin.
"As a family-run company, customer satisfaction has always been our top priority," said Dean Schiller, director of operations for Northside Elevator. "We are anticipating the future needs of agricultural producers.
"This investment demonstrates Northside's commitment to these individuals, and the future of farming throughout the region."
Northside Elevator already has a feed mill and fertilizer operation in Loyal with 110 employees. The new operation is anticipated to create eight to 10 full-time jobs plus perhaps four part-time seasonal jobs.